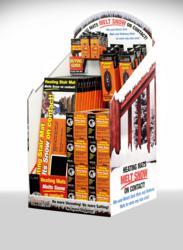 Retail stores looking for innovative winter products will be sure to take notice of HeatTrak's snow melting mats at the Orgill Fall Dealer Market this month.
Paterson, NJ (PRWEB) August 15, 2012
Hardware retailers looking to stock innovative winter products this year, will be sure to take notice of HeatTrak's heated mats at the 2012 Orgill Fall Dealer Market this month. The company is exhibiting its award winning snow melting mats in two locations: Booth #0222 and pallet alley.
HeatTrak manufactures electric heated mats that melt snow on contact and help alleviate the three winter S's - shoveling, salting, and slipping. Heated walkway mats and stair mats are designed to interconnect with one another to cover any size area and eliminate snow and ice accumulation around the home. The company introduced its retail version of the snow melting mats in 2011 with an eye catching floor display which won NRHA's Packaging and Merchandising Gold Award that year. The display portrays the mats' innovative mix and match capability and allows customers to easily choose from a selection of heated walkway mats, stair mats, power units, and cable extenders to customize a snow melting solution specific to their own needs.
The Orgill Fall Dealer Market is one of the largest and most widely attended trade shows in the hardware industry. Vendors, store owners, and industry leaders have the opportunity to network and get a first look at the hottest new fall and winter products at this three day event. HeatTrak has exhibited at previous shows but this is the first year its snow melting products are being warehoused by Orgill, making it easy for store owners and buyers to order product with just the click of a button. Retailers and industry professionals interested in learning more are encouraged to visit the company at its booth, #0222. This year's show is being held at the Sands Expo and Convention Center in Las Vegas from August 16 - 18.
About HeatTrak
HeatTrak is the world's premier manufacturer of heating snow-melting mats. Founded in 2004, The Company's products are an efficient and convenient way to eliminate snow and ice accumulation around the home or workplace. HeatTrak operates under two divisions. Its Residential Division sells heating mats for the home through hardware and home-goods stores throughout the United States and Canada. Its Commercial Division sells larger, industrial-grade products through facility maintenance and industrial supply companies in the United States, Canada, and Europe.