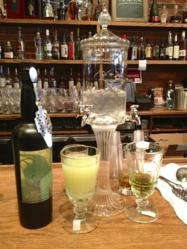 "The finish is spicy, mouthwatering and full."
-Ultimate Spirit Challenge, Judge's notes
Lakeville, MA (PRWEB) April 12, 2013
Heavenly Spirits, U.S. importer of exceptional French spirits is pleased to announce that La Muse Verte Absinthe has been awarded the Chairman's Trophy at this year's Ultimate Spirits Challenge. Evaluated by a distinguished panel of industry experts, which include Paul Pacult, Sean Ludford, David Wondrich, Katie Stipe, Jim Meehan, Julie Reiner, Dale DeGroff and more, La Muse Verte absinthe earned a total of 97 points, more than any other product in the Liqueur category. The Ultimate Spirits Challenge awards top honors to the best spirit in its category and the organization bills itself as the most credible in the industry as it raises the standards of spirit evaluation. The spirits are served under ideal conditions at best serving temperatures and in proper glassware. Judges taste all products blind and employ a custom-created format based on the 100-point scale. The tasting notes given for La Muse Verte absinthe are as follows: Fresh and floral. Aromas of white flowers and young green herbs are strong and almost sweet smelling. Fluffy in the mouth, smooth and warm it expands to coat the entire palate. Layered flavor is full of apples, herbs, and a touch of peppermint. The finish is spicy, mouthwatering and full. Outstanding. The Ultimate Beverage web site even offers a link to order the top award winning products like La Muse Verte absinthe directly on-line through Astor Wine in New York.
The story of Absinthe and its current revival in the spirits industry goes back a long way, and details of its origins are still being debated. Absinthe derives its name from Artemisia Absinthium or the Grand Absinthe plant, also commonly known in English as Wormwood. Created for medicinal applications in the late 1700s, it was used to treat a wide variety of ailments including rheumatism and digestion problems, as it was known to have a calming effect on the stomach. Absinthe reached the height of its popularity during the time of La Belle Epoque, mostly as a result of the Phylloxera outbreak of the 1860s and 70s which decimated Europe's wine industry. As more people replaced their daily ration of wine with absinthe its popularity grew. When the wine industry finally recovered early in the 1900s the French were consuming 36 million liters of absinthe per year with no signs of slowing down. It was in 1915 with pressure mounting from wine industry lobbyists as well as prohibitionists that absinthe became illegal. The reason given for its outlawed status was that in addition to its high alcohol content, (68 – 72) a component found in the wormwood called thujone was a neurotoxin and was believed to cause hallucinations when consumed. No one mentioned at the time that thujone was also present in other consumable plants like artichokes and thyme and drinks like vermouth, which actually means wormwood. In any case, absinthe was replaced by pastis a similar drink with zero thujone, and the wine industry eventually recovered. Absinthe remained illegal and unavailable to most of the world for the next 95 years. It was not until 2007, that Ted Breaux, creator of the Lucid brand petitioned the TTB to accept traditional style absinthe within the "thujone free" law as long as it had less than 10 parts thujone per million.
Fortunately for all true absinthe lovers, La Muse Verte absinthe, never had to alter the original family recipe. Drinking La Muse Verte absinthe remains the closest one can get to experiencing the quality and taste typical of premium absinthe from the time of La Belle Epoque or the beautiful era. This original recipe from the Berneau family which can be traced back over one hundred years was recently acquired by the Artez distillery located in the Gascony region of France. Jean Philippe Brunello, the Director of Artez still makes La Muse Verte the same way the Berneau family always did, by growing the Grande Absinthe plants himself and picking only the baby leaves to macerate and blend with the seven other natural plants in the proper proportions.
For more information and La Muse Verte cocktail recipes visit the Heavenly Spirits web site.
Heavenly Spirits is a Massachusetts based Import and distribution company specializing in exceptional French spirits. Opening in 2008, Heavenly Spirits has become a leading importer of French spirits in the US, carving out a niche with artisanal spirits like; Armagnac, Calvados, Cognac, aperitifs and liqueurs. The company has sold more Armagnac in the US than anyone else for the past three years, accounting for 20% of the total market share. The Heavenly Spirit portfolio is represented in eighteen US states and includes brands like Seguinot, Normandin Mercier, Jean Fillioux, Delord, Dartigalongue, Roger Groult, ArmoriK, and La Muse Verte. In addition to serving as importers, the Cooneys see themselves as both educators and cultural ambassadors. When conducting French spirit tasting seminars around the country they speak about history, technique, quality, value and taste, but they also remain strong advocates for moderation in the consumption of alcohol.
For more information contact Dan Cooney, dcheavenlyspirits(at)gmail(dot)com.