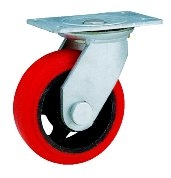 Customers Get The Heavy Duty Casters They Need - Guaranteed
Boston,MA (PRWEB) May 08, 2012
Heavy Duty Casters are a staple of the materials handling industry, since moving items is the most basic handling done to any material. A Plus Warehouse is proud of their broad line of heavy duty casters, and wanted to inform the public about the new line up. Heavy duty casters are not the same as casters that would be used on household furniture. Heavy duty casters – or industrial casters as they are often known as, have capacities starting at about 200 pounds and going into the multiple ton range. Heavy duty casters are available through material handling and MRO dealers – like A Plus Warehouse, and not typically from big box stores. Casters at warehouse stores typically have 100 pound capacities.
At A Plus Warehouse, there is a heavy duty caster for every customer and application. This is accomplished by providing equipment from a select group of manufacturers. A Plus Warehouse has been diligently putting together a constellation of industrial casters vendors, and now has the premier collection. According to Ed Stairman, " Customers Will Get The Heavy Duty Casters They Need at A Plus Warehouse – Guaranteed." Guarantees like that are possible only by offering the best products by the best vendors.
In times like now, many customers are looking to save money without sacrificing quality. Triopines is a great Korean line of casters A Plus Warehouse now sells. With Triopines' commitment to local stock in USA, even large caster order can ship immediately. For customers that need heavy duty casters at a great price and quickly – and are able to order imported products, Triopines and A Plus Warehouse make a great team.
Payson heavy duty casters are one hundred percent made in America. For those customers that need to be assured of American production, Payson is a great choice. Quality hand crafted Payson Casters do come at a premium, but customers have appreciated and have valued Payson for many decades.
Fairbanks Company from Rome Georgia is a senior manufacturer, having produced industrial equipment in Georgia for over 100 years. Fairbanks products a wide range of casters from light duty to extra heavy duty polyurethane. Much of the Fairbanks line is American Made, and some is imported. An A Plus Warehouse salesperson can certainly inform any customer which Fairbanks items are imported.
The final vendor to mention is Hamilton Casters. Hamilton is the choice for tow line applications, and extra heavy duty applications. Hamilton offers tapered and Timken bearings as a standard option. Our other vendors are very good at what they do, but Hamilton tends to handle tow line and fast moving applications at least marginally better than others. Hamilton also has a vertical heavy duty casters website that is worth viewing.
A Plus Warehouse wants to be your heavy duty casters supplier. Give A Plus Warehouse a call at 800-209-8798