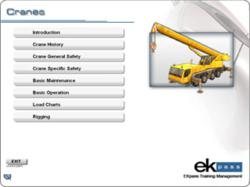 Austin, TX (PRWEB) October 08, 2012
The new iPhone 5 released to record breaking sales, but it's being used for more than playing Angry Birds and checking your Fantasy Football stats. Get ready to add, "Career Training" to the list of amazing things you can now do from your iPhone, iPad, or Smartphone. EKPass, a heavy equipment operator training and consulting firm, has expanded its services to include heavy equipment e-learning. Users can now receive training and heavy equipment operator certification from their home computer or mobile device.
The exciting announcement of EKPass' heavy equipment e-learning could not come at a more perfect time. With today's businesses looking for employees with quality skills on a variety of equipment, individuals can now take advantage of this convenient opportunity to increase their marketability. EKPass' new web based trainings also make it possible for users to maintain their current positions while simultaneously increasing their earning potential.
Instructor led, computer based, and web based trainings are available. These can be utilized by businesses or individuals at a guided or self-paced rate to meet the clients' needs. The e-learning training format also makes it possible for companies to provide trainings on new types of heavy equipment, as well as offer refresher courses for their current employees. The thorough courses have been designed by professionals, are user friendly, and 24/7 technical support is available. Visit http://www.ekpass.com for a full listing of available e-learning programs.
About EKPass
EKpass is a seasoned, internationally recognized, professional heavy equipment operator and safety training organization. We're dedicated to enhancing performance, productivity, safety in the workplace, employee morale, and profitability. Services provided worldwide on equipment from over one hundred manufacturers with a focus on improved productivity, reduced maintenance costs, and increased safety. For more information please visit, http://www.ekpass.com.