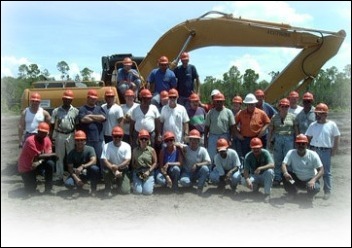 Jacksonville, FL (PRWEB) April 6, 2007
National Heavy Equipment Operator School launched its new website: http://www.earthmoverschool.com. The new website design is designed to provide current and prospective students easier accessibility to information on the website.
National Heavy Equipment Operator School has been "industry recognized" for producing exceptional graduates. The new website includes an "Industry Recognition" section which has letters from employers and their extreme satisfaction in their hires from the National Heavy Equipment Operator School. Additionally, the new website includes a "Featured Grads" section which allows you to read about previous graduates of the school, their backgrounds before National Training Inc., and their accomplishments after graduating from the school.
To make the Heavy Equipment Training school website more user-friendly, the website now has link buttons from its home page to directly link to the following pages: Enrollment Information, Accreditation, On-Line Application, Site and Staff, the Course, Resident Training Dates, Job Placement, For the Employers, Active Duty Military, Financial Assistance, F.A.Q.s, Photo Gallery, Related Links, Contact Us, Graduate Stories, Industry Recognition, Download the Catalog, and a School Virtual Tour DVD. These link pages are directly accessible from the homepage making the website easier to use. The new website is designed by Internet Marketing Company CrackMarketing.com.
National Training Inc. is a nationally accredited heavy equipment operator training school. The program offers both a homestudy component and a hands-on training component where students are able to learn and experience the heavy equipment machinery first hand. Students are trained in late model bulldozers, backhoes, wheel loaders, excavators, the very popular and versatile compact bobcat excavators and skid steer loaders. Furthermore, students will be taught how to use the construction-related equipment for land clearing, culverts and ponds, ditches for utilities, pipe laying, and road building -- including safety training.
Because construction is the largest service industry in the United States, the opportunities that are available in this field are exceptional for those who are properly trained and are ambitious.
Heavy Equipment Operators are needed for constructing roads, dams, bridges, housing, flood control, and very little strip mining, land clearing, conservation, landscaping, reclamation, land filling, logging and pipelines, as well as for working with utility companies. The opportunities are tremendous; the heavy equipment operator and small earth moving contractor field is well paid with an excellent future which helps to solve energy, environmental, and water problems.
To find out more about Heavy Equipment Training or the nationally accredited Heavy Equipment Operator School contact National Training Inc. toll free at 1-800-488-7364 or visit the official website. Also, the Contact Us page on the website provides further email and mail contact information.
###