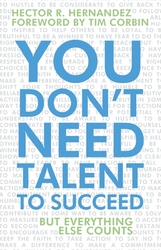 West Palm Beach, FL (Vocus) October 20, 2010
With a 9.6 percent unemployment rate, the current job market can be extremely competitive. Fortune 500 executive Hector R. Hernandez offers job seekers practical and honest advice in his new guide to success, You Don't Need Talent to Succeed, But Everything Else Counts (published by iUniverse).
Hernandez believes that everyone is hardwired with the same abilities, but to differentiate oneself from the rest, all you need to do is follow eight simple yet powerful solutions to unlock your abilities to succeed.
Hernandez left Cuba with his family when he was just eight years old to achieve the American Dream. For the last thirty years, he has climbed his way up the proverbial ladder by utilizing the same ideas shared in his book. Starting out, he applied to IBM seven times before they ever noticed, starting as a third shift tape librarian and working his way through school to become an executive.
In You Don't Need Talent to Succeed, But Everything Else Counts, Hernandez shares real world experiences for career and life development and assists in confidently map your journey to a successful future. The book includes:

Reaching your higher self
Instructional lessons to reach your success potential
Real-life success stories and case studies
Eye opening personality quizzes
"Hectorisms" and best practices self-awareness test
Student testimonials
You Don't Need Talent to Succeed, But Everything Else Counts is a revealing read for individuals who are in need of career guidance as well as those who are committed to achieving their personal best. Hernandez himself is a testament to how the principles in his book can empower a person to unlock their inner potential.
About the Author
Hector R. Hernandez has over 30 years of corporate experience with IBM as a Global Enablement and Technology Executive. Today, he is a career and life coach. He has done hundreds of inspirational speaking engagements based on his personal success starting at the bottom of the corporate ladder to the top. Hernandez has traveled from continent to continent bringing his energy, enthusiasm and sensible advice to organizations and individuals across the globe. For more information, visit http://www.careerandyourlife.com.
iUniverse is a premier book publisher for emerging, self-published authors. For more information, please visit http://www.iuniverse.com.
###