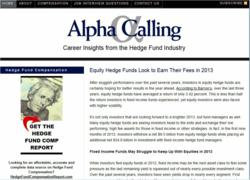 Hedge funds are uniquely positioned to offer an attractive product to a number of portfolio managers
SAN DIEGO, California (PRWEB) January 17, 2013
2012 was a very long year for the hedge fund industry, one that started out optimistically enough. But optimism waned along with confidence as growth slowed and regulatory changes loomed. This week, hedge fund career site AlphaCalling.com summarizes the industry's 2012 performance, recaps the year's fee compensation and investor fund raising battles, and offers its own predictions for 2013.
Among the biggest changes for hedge fund managers in 2012 were the Commodities Futures Trading Commission's (CFTC) repeal of a key exemption that a majority of hedge fund advisors once depended on. As of January 1, hedge funds face CFTC registration requirements in addition to state and SEC requirements. AlphaCalling.com predicts that it could be months before the new regulatory rules are understood industry-wide and compliance becomes routine. The jury is still out on how the early months of adjusting to the changes will go.
Already facing fee cuts in 2012, the hedge fund industry is expected to begin implementing lowered cost structures in 2013 as well. The move is doubly painful for hedge fund professionals who will need to continue under the standard fee structure of 2 and 20, for now anyway.
Economic uncertainty, particularly at a time when fiscal cliff and debt ceiling battles have many Americans feeling skittish, is influencing investors looking to lower their costs, beginning with fees.
As investors become more vocal, competitive funds see to it that their demands are met – or that they are given more appealing alternatives. At greatest risk are the large institutional investors around which fundraisers build their careers.
Years of slow returns had already stacked the deck against the hedge fund industry, and 2012 was additionally burdened by weak economic conditions that languished for months. The result was institutional investors struggling just to overcome minimum return obstacles, investors moving their cash elsewhere, and increased competition within the industry favoring institutional investors over hedge fund managers.
However, AlphaCalling.com remains cautiously optimistic for hedge fund job seekers in 2013. Hedge funds are uniquely positioned to offer an attractive product to a number of portfolio managers. At a time of historically low fixed income yields, successful portfolio managers in 2013 will be those creative analysts looking for alternative investments with low correlation to equity returns that can still produce more return than the two or three percent possible with a low risk bond portfolio.
The competition between hedge fund fees and a low cost bond index portfolio is ongoing, but strength might lay in certain funds that can outperform fixed income benchmarks. The case to negotiate higher fees will be won with performing funds – investors will pay a higher fee for performance.
AlphaCalling.com still sees positive signs within the hedge fund industry. Growth is expected in the alternative investment class due simply to its singular position within the industry, offering higher returns than fixed income alternatives while maintaining low correlation to equity indexes.
AlphaCalling.com says some hedge fund firms will delay hiring and even make cuts in early 2013, while regulatory uncertainties and fee battles are ironed out. But hedge funds are still in much better condition than other financial industry niches, such as investment banking.
The mood is one of cautious optimism, and that is reserved for talented and experienced hedge fund job seekers who can prove to their client investors that their fees are worth the cost.
For more information on the hedge fund job market in 2012 and predictions for 2013, visit the AlphaCalling.com website.
###