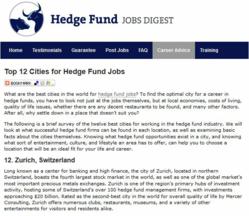 Opportunities for hedge fund jobs worldwide continue to attract professionals.
San Diego, California (PRWEB) January 08, 2013
As hedge funds factor into the steadily growing list of alternative diversification strategies being taken on by institutional investors, opportunities for hedge fund jobs worldwide continue to attract professionals ready to take on the challenges of globalization, industry consolidation and increased regulation.
For anyone eyeing a career in hedge funds, JobsSearchDigest.com has compiled a list of the "Top 12 Cities for Hedge Fund Jobs" based not only on the jobs available, but on local economies, cost of living, and quality of life issues in hedge fund-centric locations.
Included in the top 12 cities for hedge fund job opportunities are:
Zurich, Switzerland, an international banking and high finance hub boasting the world's fourth largest stock market and one of the most important precious metals exchanges. Many of Switzerland's more than 100 hedge fund management firms are headquartered in Zurich, with investments approaching $20 billion.
Tokyo is one of the world's top economic centers. Home to eight million people, Tokyo is famous for its high energy, high-tech metropolitan culture. Finance professionals looking for hedge fund jobs gravitate to Tokyo for its wide range of career opportunities. Host to numerous hedge fund firms including SPARX Asset Management Group, TSI International Group, and Vistra Fund Services, Tokyo's investment exchanges turn over more than $70 billion in assets daily.
San Francisco is another hub for business, commerce and finance, set in the spectacular vistas of Northern California and the San Francisco Bay. The City's population of seven million, combined with its cosmopolitan urban environment, cultural diversity and environmental stewardship add to its thriving business community. Firms like Farallon Capital Management, Route One Investment Company, and SAC Capital have headquarters or branch offices in San Francisco, providing hedge fund job opportunities for professionals eyeing a West Coast lifestyle.
Chicago, also hosts a thriving financial sector. A global investment marketplace since its early days as a trading post at the mouth of the Chicago River, the "Windy City" offers a variety of hedge fund industry jobs. Chicago is home to three investment and futures exchanges, the Chicago Stock Exchange, the Chicago Board Options Exchange and the Chicago Mercantile Exchange. An estimated $31 billion in assets are managed by Chicago-based firms like Citadel and Getco LLC.
Probably the oldest modern financial hub in the world, London's solid financial tradition and thriving collection of investment firms makes it an ideal place to find hedge fund jobs. London is Europe's number one hedge fund firm center; 75 percent of all European hedge fund investments totaling more than $300 billion are managed by London firms.
The number one city for hedge fund job seekers probably comes as no surprise. New York City has always been the financial and commercial capital of the U.S., and its hedge fund firms hold assets more than five times greater than its closest hedge fund rival. A wealth of commercial activity make Manhattan the nation's best hedge fund industry employment rate.
Other cities named in the top 12 are Boston, Dallas, Greenwich Connecticut, Hong King, Stamford, Connecticut and Geneva, Switzerland.
To read the full article, "Top 12 Cities for Hedge Fund Jobs" visit Hedge Fund Job Digest at JobSearchDigest.com.
###