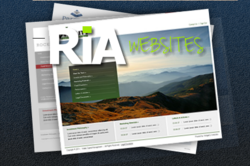 RIA Websites help Registered Investment Advisers focus on what they do best.
West Palm Beach, FL (PRWEB) April 26, 2012
HedgeCo has launched RIA Websites, a division specializing in technology solutions specific to the investment advisory industry. RIA Websites will leverage the technology built by HedgeCo Websites and provide clients with website licensing with built-in CRM and content management tools.
"We have been working with investment advisers and fund managers since 2004 to provide them with a presence on the internet. Our design and technology teams have spent years crafting websites and platform and are constantly updating our user-friendly functionality," says Aaron Wormus, Managing Director of HedgeCo Websites. "While our functionality was built around our hedge fund clients, we came to the realization that all our built-in features were transferable to investment advisers without hedge funds, including our investor tracking and management, content management system, and compliance tools."
RIA Websites provides investment advisers with an all-in-one technology tools, including websites, document tracking, user and investor tracking and management, and performance and quantitative statistics. With its modular design, investment advisers can easily select the functionality they need without paying for unnecessary features.
"We are very proud of our platform and the service we provide our website clients, and quite frankly, I believe this is a product that no other firm provides," claims Evan Rapoport, CEO of HedgeCo Networks. "We have spent years developing our websites, including HedgeCo.Net, and client websites. We have done websites for all sizes of firms, from small emerging managers to multi-billion dollar asset managers. Furthermore, we know the ins and outs of compliance from working with the SEC and other regulators and through running our own funds and broker/dealer."
Please visit RIAWebsites.com to view the whole product offering.
About HedgeCo Networks:
HedgeCo Networks LLC manages HedgeCo.Net, the premier Hedge Fund Database and Information Portal, along with a portfolio of nine other websites devoted to alternative investments. With over 45,000 active members, HedgeCo.Net provides a community and platform for hedge fund managers, investors and service providers. HedgeCo also offers a vast array of hedge fund services, including website design, consultation, and third-party marketing and seeding. The Company has consulted or helped to launch over 500 new hedge funds, both onshore and offshore. HedgeCo Networks was founded in 2001 by Evan Rapoport. For more information, please visit http://www.HedgeCo.net