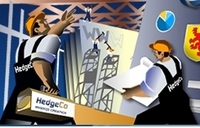 We are very excited to offer our clients this opportunity
West Palm Beach, FL (PRWEB) February 28, 2008
HedgeCo LLC, a premier name in the hedge fund database, consulting and service industry, announced today a strategic relationship with Spicer Jeffries LLP. This partnership was designed to give clients of Spicer Jeffries access to the HedgeCo Hedge Fund Websites Platform thus increasing their Internet and global presence.
"Through this alliance, our partners will be able to offer a much broader array of services," said Andrew Schneider, Partner at HedgeCo, LLC. "We also plan on building upon the expertise of Spicer Jeffries to lift HedgeCo Networks' products to the next level, so it's a mutually beneficial relationship."
Products being offered through this agreement include the HedgeCo Hedge Fund Website platform, the Hedge Fund Calculator analytics tool, and the opportunity to integrate with HedgeCo.Net, the premier hedge fund Internet portal. All of these services will be offered at a fraction of the usual cost.
This announcement once again shows how HedgeCo Networks continues to distinguish its company from other service providers by offering high-tech, cost-effective services and analytic tools.
"We are very excited to offer our clients this opportunity," says Bob Yurglich, Senior Partner at Spicer Jeffries. "We have had tremendous success in working with HedgeCo Networks, and we know that this partnership will substantially strengthen our position in the marketplace through what we can now offer our clients."
HedgeCo Networks is actively seeking partners in different fields to develop and deploy future products.
HedgeCo, LLC manages HedgeCo.Net, the premier Hedge Fund Database and Information Portal. HedgeCo offers a wide array of services, including website design, consultation, and third party marketing. They also provide a platform where fund managers, investors and service providers can come together in an online community that caters specifically to this fast-paced industry.
The HedgeCo Websites team has worked with the Hedge Fund industry for 3 years. Drawing on the experience used in creating and managing HedgeCo.Net, the HedgeCo Websites team has designed over 150 websites for all size hedge fund firms in the USA, Europe and Australia.
Spicer Jeffries LLP provides audit, accounting, tax and consulting services for broker-dealers, hedge funds, commodities, registered investment advisors and other investment entities, both on-shore and off-shore. Entities of this nature require a unique understanding of what it takes to operate in the environment, sometimes regulated, as well as the various and peculiar tax rules and regulations. Spicer Jeffries brings this understanding to all of their engagements. Because of their extensive experience and trained personnel, they are able to conduct their work efficiently and cost effectively.
###