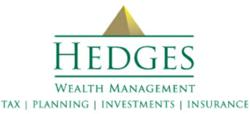 We always give our clients independent objective opinions and have a concentrated focus on mitigating risk.
Charleston, SC (PRWEB) October 12, 2012
By partnering with Annuity123 and participating in their groundbreaking baby-boomer and retirement planner matching service, Hedges Wealth Management will be able to help more retirees develop a safe income strategy. Annuity123 not only matches clients with retirement experts, but it also provides an online community to educate clients on the retirement income strategies to help them make informed retirement decisions.
As the population of retirees grows over the next decade, many baby-boomers are in search of a retirement plan that fits them like a glove rather than a "cheap suit". As interest rates hover at all-time lows, unemployment nears 9%, and an extremely volatile and uncertain stock market is present, many baby boomers' approaching retirement are left with very few retirement income options. Without proper guidance and the intelligent use of investment vehicles like fixed indexed annuities, many retirees will be left outliving their retirement income streams.
This is precisely why Hedges Wealth Management has partnered with Annuity123. The annuity harmony service at Annuity123 matches baby-boomers and retirees with qualified retirement income specialists to help them achieve their retirement goals. The financial professionals on Annuity123 concentrate on safe money retirement income solutions.
About Hedges Wealth Management
Hedges Wealth Management LLC is a Registered Investment Advisor (RIA) with clientele stretching throughout the South East in major cities such as Charlotte NC, Atlanta GA, Charleston SC and Miami FL. We cater to both private individuals (such as ultra high net worths, medium sized business owners, lawyers & surgeons) and institutional clientele (such as trusts, charities, foundations, endowments & corporates). As a firm, we are 100% independent and hold the exclusive Retirement Planning Specialist Certification from the Wharton School of Business. We always give our clients independent objective opinions and have a concentrated focus on mitigating risk. We utilize safe money retirement solutions for our clients to ensure a lifelong income stream and a successful retirement game plan. Click here to see what we can do for you and your retirement plan: http://www.hedgeswealthmanagement.com
About Annuity123
Annuity123 was designed to educate consumers across the country about the variety of and means to contractually guarantee lifetime income. The fear of outliving your money doesn't have to be a burden. The purpose of this platform is not only to educate consumers about the importance of lifetime income and creating their own pension annuity, but also to provide easy access to the best retirement income and annuity specialists in the country. By first educating consumers and then matching them up with experts in their area for further advice, Annuity123 hopes to make a big impact in the retirement field. Annuity123 is owned by Annuity Think Tank, LLC.