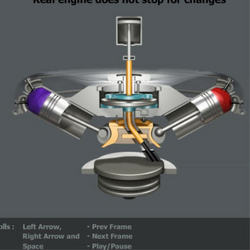 The Hefley Engine will save billions in fuel and help put Americans back to work making new Super Green power plants for the automotive and other industries
Las Vegas, NV (PRWEB) March 24, 2009
The Hefley Engine, Co. is announcing they will put the most advanced Super Green engine ever patented up for sale to the highest bidder in 2009, with an option to purchase it outside of auction for $500 million.
With the rise in gas prices and environmental issues, the automotive industry has been trying to "go green" for years. The Hefley Engine is the closest the world has made it, with a one engine design that can be made into an engine with anywhere between three and nine cylinders and ranging between 50 and 1500 horse power. It can be created to use different fuel types and can be converted into a rotary engine if desired.
While it comes as little surprise that this technology has already generated great interest all over the world, the super green engine's creator Carl Hefley has been surprised at the lack of interest in his own country of the United States. While the world has continued to develop new automotive technologies, the American automotive industry has fallen behind. Hefley believes that purchasing this technology can put America right back in the game.
Hefley said, "I would really like to see Chrysler, General Motors, Ford or other United States automotive companies take advantage of this unique and totally green engine. But I'm concerned because so far foreign countries seem to be a little more anxious in the technology, American companies seems hesitant to improving their technology base unless they develop it. Foreign countries look to be ready for new technology."
Hefley believes the Hefley Engine will be the greatest new technology on the market for purchase in 2009. It can be retrofitted for any type of vehicle, from a street car to a "Humvee". The design uses oxygen in the air more efficiently that makes it "Super Green".
The engine changes its inward displacement in small increments to adjust to the immediate power requirements so it always operates at peak efficiency regardless of the power required and does not turn off the fuel in certain cylinders in order to increase fuel efficiency. The Hefley Engine actually changes its inward size and also makes adjustments to keep a near perfect fuel combustion ratio.
"The Hefley Engine will save billions in fuel and help put Americans back to work making new Super Green power plants for the automotive and other industries," Hefley said.
This type of technology will be vital to any company to improve and develop economically friendly cars, vans, trucks or military vehicles. Furthermore, whatever country this technology is in will be at the front of environmental automobile race. Hefley said he wants this technology to stay in the United States, but ultimately it isn't his choice.
Hefley stated, "While my priority is to keep this technology in the United States, in the end I have to choose the company or country who gives me the best bid. It may go to a foreign country and what choice do I have?"
With the state of the automobile industry, Hefley said that the countries most powerful man may be able to exert his influence in the process.
"President Barack Obama ran on a platform that included in investing in greener technology domestically. What better place to start than purchasing the world's most advanced Super Green engine?" Hefley said.
Hefley said he won't put the engine on eBay right away, and will see if any one will put in an immediate bid that he will consider. After that, he will put it up for auction on eBay, or for immediate purchase for $500 million.
Any potential buyers or media members looking for more information can visit http://www.hefleyengine.com, http://www.hefleypower.com or e-mail Media (at) HefleyTec (dot) com.
Contact:
Carl Hefley
800-392-9862
staff (at) Hefleyengine (dot) com
###