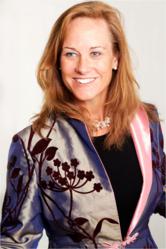 'Knowledge is Power: Sharing is Powerful' - Heidi Forbes Öste
Hollywood, CA (PRWEB) June 07, 2013
Heidi Forbes Öste is a sought after international speaker and corporate educator who will be presenting her newest project 'Who's Next: Leadership in the New Social Paradigm' at The Swedish Affair in West Hollywood Hills, California this June 9-10, 2013.
'Who's Next: Leadership in the New Social Paradigm' is the result of combining interest and passion in today's evolving world. Six global leaders share their stories of when and how their leadership styles (and lives) changed as a result of social technologies. Futurists, Recruiters and Investors provide commentary about the new paradigm and its impact on leadership. Scholars provide context on what it will take to evolve.
Heidi says, "We not only present the need for leaders to evolve as social CEOs. In the spirit of "Happy", the movie, we shall trigger a movement." ' Who's Next' is the transition solution for capturing the knowledge and consciousness of current leaders and the digital competency of future leaders for shared transformation. By bringing elements of social strategy, visualization, gaming and social technology together, one is invited into an interactive trans-media journey to leadership in the New Social Paradigm.
About Heidi Forbes Öste
Forbes Öste is a Global Social Strategist, Visual Practitioner, global nomad and geek. Her professional work incorporates visual thinking into communications and social strategy for organizations, business leaders and entrepreneurs. She is currently working on doctoral research about the impact of social technologies on leadership. She lives by the philosophy that Knowledge is Power: Sharing is Powerful. Her passion is empowering change makers to achieve their untapped potential through clarity in vision and communications globally. She is American by birth and Swedish by choice (a "love refugee" married her Swede in 1999 and became a citizen in 2010).
About The Swedish Affair
The Swedish Affair is a meeting among creatives, peers and strangers alike, cross-cultural and cross-industry. This is a great (and suave) way to network and develop new ideas. With this two-day event the organizers want to deepen the love affair between creative Sweden and Los Angeles with smart people getting together, sharing knowledge and thoughts. There will be short intensive panels, visionary keynotes, brilliant artists and the best of innovative companies out of the Swedish creative scene in a laid-back setting that allows relations to be built and affairs to spire.
The Swedish Affair is bringing Swedish world-class chefs so attendees will get to bite in to The Nordic Cuisine movement - informal, open and democratic. Don't miss out on brunch and BBQ. Smörgåsbord, anyone? On the plate there will be more than food. There will be live performances, unplugged music, mind-blowing games and screenings as well as top of the line speakers and panels. Good fun, good business.
The setting this year is the magnificent Rockstar Mansion in Hollywood Hills. With the grandest of views attendees are going to see the sunset over Los Angeles while celebrating creativity and innovation, sharing experiences and building new relations.
Heidi Forbes Öste
Heidi (at) ForbesOste (dot) com
Swedish mobile +46 708 324 948
TheSwedishAffair.com
"Heidi Forbes Öste is Proud to Support The HOME Foundation "
About The HOME Foundation:
The Helping Others Means Everything, or The HOME Foundation, is a not-for-profit organization dedicated to helping our Family of Charities. Frankie Verdugo, President of The HOME Foundation, wants to help as many worthy charities as possible as they struggle during these tough economic times. Frankie Verdugo helps raise funds through luxury dream home raffles, home giveaways, prizes, and high profile celebrity events in Hollywood... "Our mission is to help charities reach their fundraising goals and to bring awareness to their praiseworthy causes."