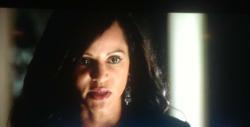 These contemporary statement earrings are a beautiful way to add an ornate touch and point of detail to a simple top or dress worn for business or an evening out.
Layton, Utah (PRWEB) February 13, 2013
Heidi Kingman, designer/owner, Heidi Kingman Jewelry (http://www.heidikingman.com), Layton, Utah, has had her "Olde World Romance Earrings" worn by key character Abby (Persia White) on Season 4, Episode 12, of CW TV's The Vampire Diaries.
Watch a Heidi Kingman Jewelry video.
Kingman says she received an email last November from Leigh Leverett, the stylist at The Vampire Diaries, saying that her earrings would be worn by a character on the show but was not told who would be wearing them or on what episode. "Since I DVR The Vampire Diaries, I only found out Bonnie's mother Abby was wearing them when I started seeing Facebook posts from friends," laughed Kingman. "It was a total surprise."
Leverett received Kingman's "Olde World Romance Earrings" as part of a stylist gift bag initiative coordinated by art promotions and celebrity gifting company The Artisan Group, of which Kingman is a member. Valerie Guerrero, founder of The Artisan Group, sent the gift bag in early November. It included jewelry and accessories from 80 of the Group's 600+ members. To date, about 20 pieces have been selected by Leverett for use on the show.
"I wanted to create an air of mystery with this design," said Kingman. "Although the overall shape, combined with the stones and colors, harkens back to days of horse-drawn carriages on cobblestone streets and elegant gowns softly reflecting the glow from gas lantern lamps, these contemporary statement earrings are a beautiful way to add an ornate touch and point of detail to a simple top or dress worn for business or an evening out."
Kingman is an enthusiastic participant in The Artisan Group gifting initiatives like the one for "The Vampire Diaries." Her hammered copper and sterling silver "Strike a Chord Guitar Bracelet" recently appeared in Celebrity and Press Swag Bags at the Official Gift Lounge for the 46th Annual CMA Awards, where it landed in the hands of Carrie Underwood, Kelly Clarkson, Scotty McCreery and Zac Posen, among others.
Post-event, Jenee Fleenor, guitar player/violinist for The Blake Shelton Band Tweeted a photo wearing the piece. "The excitement and appreciation on her face was evident," remarked Kingman. "I think it has to do with the connection wearers have with handcrafted, artisan work."
Kingman is now preparing thirty of her "Eco-Globe Bracelets," which she designed with recycled vintage scarves, re-purposed vintage foreign coins and re-used beads, for The Artisan Group's 2013 Earth Day collaborative gift bag. The bag will be gifted to environmentally aware A-list celebrities including:
Hayden Panettiere, Ginnifer Goodwin, Edward Norton, Adrian Grenier, Kate Bosworth, P!nk, Leonardo DiCaprio, Rachel McAdams, Emily VanCamp, Woody Harrelson, Julia Louis-Dreyfus, Daryl Hannah, Malin Akerman, Ted Danson, Orlando Bloom, Jake Gyllenhaal, Josh Hartnett, Sting, Barbra Streisand, Alicia Silverstone, Courteney Cox, Cameron Diaz, Sheryl Crow, Mark Ruffalo, and Natalie Portman.
Asked how she feels about gifting celebs, Kingman notes, "Of course it is fun to know a well known personality will be a receiving a piece of my handiwork. But it has also given my micro-size business visibility on a level usually inaccessible to small designers. It also gives a boost to the artisan movement in general. That's important to me because it provides a reprieve from the largely disposable world of large-scale manufactured goods."
Kingman's jewelry designs are geared to men and women who seek expressive, artistic adornments that aren't cookie-cutter. "My customers want pieces that reflect their appreciation of organic style, extraordinary detail and whimsical wonder," said Kingman.
As a designer of wearable art jewelry, she seeks to strikes a balance between earthy and architectural, organic and industrial, primitive and modern, noting, "It's a constant exploration of the blending of those elements, one bend, twist and hammer-strike at a time."
Kingman began selling her jewelry designs in 2008 as My Bead Therapy. She recently re-launched her business as Heidi Kingman Jewelry but will continue to sell her handmade jewelry components under the old name.
In other news, Kingman's "Courageous Lion Heart" Breast Cancer Awareness Piece was recently published in the Bead Trends Idea Book, December 2012.
To learn more about Heidi Kingman Jewelry, contact Heidi Kingman by phone or email. Become a fan on Facebook and follow the company on Twitter. Shop Heidi Kingman Jewelry at http://www.heidikingman.com. For more information about The Artisan Group, visit http://www.theartisangroup.org.