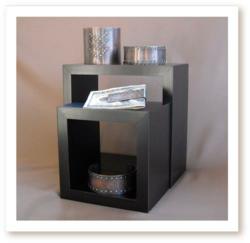 I put this Collection together to appeal to both men and women. The pieces have clean lines and an easy-to-wear-with-anything vibe...
Big Rapids, Michigan (PRWEB) February 12, 2013
HeidiLee Design (http://heidilee-design.myshopify.com/) jewelry has been selected for use on CW TV's The Vampire Diaries and HBO's True Blood and will be showcased on display and included in Celebrity Gift Bags at GBK's Gift Lounge for the 2013 Academy Awards, February 22-23, 2013 in Beverly Hills, CA.
At the Gift Lounge, Kinnally will have her "Industrial Style Bracelet Collection" on display and her signature "Moroccan Lace Earrings" included in celebrity swag bags. The GBK Gift Lounge takes place February 22-23, 2013 at an exclusive location in Beverly Hills, California.
The display collection includes a "Unisex Studded Copper Cuff" that Kinnally hand-forged from heavy gauge copper sheet and adorned with brass rivets. There is also a 2-inch wide, hand-forged "Copper Chevron Cuff" accented with brass rivets and eyelets in a chevron pattern and a "Unisex Mixed Metal Cuff," hand-forged from copper and accented with brass eyelets and bronze lace around the edges. The Collection is capped off with a rustic, textured money clip.
"I put this Collection together to appeal to both men and women," stated Kinnally. "The pieces have clean lines and an easy-to-wear-with-anything vibe that I think Hollywood will appreciate."
The "Moroccan Lace Earrings" included in celebrity swag bags, to be handed out at The Artisan Group exhibit, highlight Kinnally's signature "Moroccan Lace" edging technique, an innovation that Kinnally wrote about in a recent issue of Wire Art Magazine. The earrings are fashioned from either bronze or copper and feature a variety of colored Czech Glass beads. They are what Kinnally describes as "elegant Bohemian." Each pair of earrings is thoughtfully packaged in a chocolate-colored Organza bag along with a signature photo business card.
Kinnally is also coming off several successful gifting opportunities with The Artisan Group. Most recently wardrobe stylist Audrey Fisher selected Kinnally's "Unisex Mixed Metal Cuff" for use during Season 6 of HBO's "True Blood," which premieres in June. In addition, Leigh Leverett, wardrobe stylist for "The Vampire Diaries," selected Kinnally's "Dangerous Yet Beautiful Silver Blade Earrings" to be worn in an upcoming episode of the show. Kinnally had her work introduced to both stylists via The Artisan Group's Stylist Gift Bag initiative.
Amy Poehler has been photographed out and about wearing Kinnally's "Color Drenched Bangles" on several occasions, after receiving them as part of a The Artisan Group collaborative gift bag in 2012.
To learn more about HeidiLee Design or its participation in The Artisan Group's celebrity gifting initiatives, contact Heidi Kinnally by phone or email. Shop HeidiLee Design at heidilee-design.myshopify.com,, follow it on Twitter (@HeidiLee_Design) or become a fan on Facebook. For more information about The Artisan Group, visit http://www.theartisangroup.org.
About HeidiLee Design
Soulful artistry and impeccable craftsmanship are at the heart of every HeidiLee (http://heidilee-design.myshopify.com/) custom jewelry design. Hammered cuffs, riveted bracelet stacks and stamped pendants display a classic familiarity and everyday ease that is appealing to both women and men. Rustic dangle earrings range from perfectly unadorned to earthy and bohemian. Materials of choice include brass, copper and bronze, along with silver and natural gemstones. Designer/owner Heidi Kinnally grew up nurtured by a family of accomplished artists and musicians. She is a trained metalsmith and says her future as an artist was portended when at a young age she began purchasing jewelry to take apart and put back together to her liking.
About The Artisan Group
The Artisan Group (http://www.theartisangroup.org) is an elite art promotions group representing talented small-business artisans at the best celebrity gift lounges. The organization provides a collective sampling of handcrafted products to celebrities and members of the press at top luxury gift lounges such as those leading up to The Academy Awards, The Golden Globes, The MTV Movie Awards and The Primetime Emmys. Membership in The Artisan Group is juried and by invitation-only. The Artisan Group also offers its members guidance in the areas of sales, marketing, social media and public relations.
The Artisan Group is in no way associated with MTV, The Academy of Motion Picture Arts and Sciences, The Hollywood Foreign Press Association or The Academy of Television Arts and Sciences.