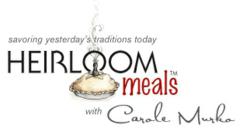 Dawn DeAngelis, New Hampshire Public Television's Chief Content Officer says, "As always, it takes a village…. From Carole's original concept to Pete & Gerry's belief in the program and its resonance with PBS audiences...
Stockbridge, MA (PRWEB) November 21, 2011
Carole Murko, Heirloom Meals' creator and Executive Producer, is pleased to announce over 88% of public television stations across the United States are airing Heirloom Meals Thanksgiving. Many, multiple times and during prime time. Notable prime time spots are on New York City's WNET on November 22 at 10 pm, Tampa's WUSF on November 23 at 8 pm, Minneapolis' KAWED on November 24 at 7.30 pm, Albany, NY's WMHT on November 24th at 8.30 pm. New Hampshire Public Television and WGBY in Springfield, MA are using Heirloom Meals' Thanksgiving as a pledge show during the month of December with the theme, "The Season of Thanks."
Sponsor, Pete and Gerry's Organic Eggs out of Monroe, New Hampshire has been instrumental in putting together a compelling packet of goodies that New Hampshire Public Television and WGBY will offer to their viewers when they donate at certain levels. Items include, a DVD of the show and a recipe booklet, Pete and Gerry's Organic Eggs for a year, Stonyfield yogurt, Cabot cheese, Cookiehead Snacks and one of Carole's favorite food memoirs, Gesine Bullock Prado's book, My Life from Scratch.
Heirloom Meals is a storytelling show about treasured family recipes, stories, and tips…savoring yesterday's traditions today. The Thanksgiving Special features people from across the country and across cultures, as they talk about their favorite Thanksgiving recipes and memories.  Featured interviews range from a direct descendant of the pilgrims to a newly minted citizen; from a Midwestern housewife to a Southern gentleman to an Italian grandmother. In an interview with a butcher who sells only local pasture-raised meats, we learn the importance of sustainable farming and of buying local food. "At Heirloom Meals, we believe that food is our connection to our past and it is the bridge to our future," said Murko.
The entire special was filmed by a crew of Berkshire, MA film industry professionals, including Director and Cinematographer, JP Lipa and producer Chris Lipa of Pittsfield-based Eleven11. Dave Bilodeau of Pittsfield was the sound recordist and gaffer. JP Lipa says, "I am thrilled by the reception that the show has met." Chris Lipa expressed that the show's themes resonated with them because their family is super tight.
Sponsors for the show include heirloom egg producer Pete and Gerry's Organic Eggs; Stonyfield Organic Oikos, the leading organic Greek yogurt; Sears/K-Mart; Hearst Brand Development; KWC-America, a leader in luxury Swiss-made kitchen faucets; The Round Barn, a distinctive Bed and Breakfast in Waitsfield, VT; Nejaimes, wine merchants in the Berkshires and The Moore Family Foundation.
About Carole Murko and Heirloom Meals
Carole Murko is a culinary artist who learned how to cook by observing her mother and grandmother since the age of three. Throughout her life, Carole  has emulated their passion for entertaining, cooking, and feeding friends and family and translated it into her own special way of honoring the traditions she loved as a child.
Carole hosts a weekly radio show called Heirloom Meals Radio, a storytelling platform she created to share treasured family recipes, stories, and tips…"savoring yesterday's traditions today", on NPR affiliate Robinhood Radio, WHDD, 91.5 FM in Sharon CT.  She regularly appears as a food expert and demo chef on Newschannel 13, Albany, NY's NBC affiliate. Carole has developed and hosted a 16-video series featuring diabetes-friendly heirloom recipes for Liberty Medical that launched this November.
Please visit the website http://www.heirloommeals.com or email info(at)heirloommeals(dot)com for more information.
###