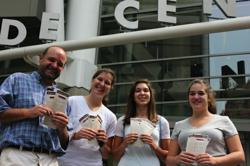 It's (The Heirloom Registry) an idea that seemed to click with people — especially those here today with all this cool stuff.
Seattle, Wash. (PRWEB) August 22, 2012
While they certainly didn't meet all 6,000 people The Seattle Times estimated attended the Antiques Roadshow event on Saturday, representatives of The Heirloom Registry spoke with several hundred about their family heirlooms treasures — and the stories behind them — as the lucky ticket holders to the event made their way to and from the Washington State Convention Center in downtown Seattle.
Friends and family members drove about two hours south from company headquarters in Ferndale, Wash., to help pass out free registry stickers and let attendees know a little about how The Heirloom Registry works.
"It was fun," said Maggie McLaurin, one of those helping with the handout. "It's (The Heirloom Registry) an idea that seemed to click with people — especially those here today with all this cool stuff."
While most attendees arrived by car, mostly invisible to the rest of the city as they made their way through covered passages into the event, the scene on the street in front of the convention center was sometimes circus-like as people arrived on taxi and by foot with wall-sized paintings, colorful rocking chairs, antique footlockers, collectable guns and firearms, old family photos, books and bibles, clocks, quilts, wooden battle ships, toy horses, rugs and knickknacks of all sorts.
"Paintings definitely seemed to be the most common thing," said Patty Hiestand, wife of company founder Mike Hiestand, "Lots and lots of art."
"I guess the most unusual thing I saw was a giant chair made of all sorts of antlers. The chair was probably about 7 or 8 feet high, more like a throne. There was kind of an ongoing battle between the guy rolling it down the hilly street and the chair, which didn't seem like it really wanted to be there," she joked.
"I gave him a hand – and it worked out."
Most attendees seemed happy as they left. While almost all expressed some regret that they hadn't been chosen to go on camera — where the most interesting pieces and hidden treasures are appraised by experts to be seen by millions when the TV show airs — almost all said their experience had been positive and they'd learned something.
"It's good to see people jazzed about learning the history of their things. Even if you don't hit the lottery with that five-dollar garage sale purchase, knowing the story of something — whether it's information about how it was manufactured or something about the people who used it — immediately adds value and makes you care — and probably take care — of those things. It's kind of an opposite approach to our throw-away society," Hiestand said.
Attendees weren't the only ones to learn about The Heirloom Registry.
"I spoke with the security guy for the event who said some folks with the Roadshow had heard we were going to be there and wanted him to pick up a sample to see what it was all about."
"I'm thrilled! Obviously, I'm a big fan of the show and what they do. I'm delighted to hear we're on their radar. While we're two separate companies, we have similar missions. They've helped people all over the world learn about the stories of their things. And at The Heirloom Registry it's our goal to help people share and preserve those stories."
"It really is all about the story," Hiestand said. "An heirloom without a story is just more stuff."
About The Heirloom Registry
When you record the history of a family heirloom or treasured belonging in The Heirloom Registry, its story travels with it. Wherever it goes. Always. For as little as 99 cents and in just 10-15 minutes, family stories can be safely preserved. Its simple: Mark/label your family heirlooms (and future family keepsakes) with a high-quality Heirloom Registry sticker, brass or aluminum plate, and share your items stories or provenances -- in words and pictures at http://www.heirloomregistry.com. Once registered, those stories will be available to future owners no matter where the item goes.
About Houstory® Publishing
Houstory Publishing, LLC, is the publisher of the original Home History Book archival journal and creator of The Heirloom Registry. The company, started in 2007 by brothers Mike and Dan Hiestand, is a leading provider of home genealogy and historical preservation products and information. They are based out of Ferndale, Wash. and Austin, Texas. The company is not affiliated with The Antiques Roadshow or PBS Television.
###