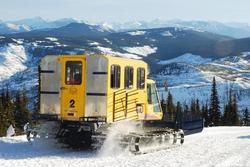 The heli & cat skiing directory provide the ultimate resource in planning your backcountry ski trip.
Boulder, CO (PRWEB) December 7, 2009
Untracked Guides launches new heli & snowcat skiing website. The completely re-designed Untracked Guides website serves as a hub of information on backcountry skiing and snowboarding topics.
The articles section of Untracked Guides focuses on firsthand heli skiing and snowcat skiing experiences with top backcountry skiing operations.
For the latest heli skiing news, the Untracked Guides news section provides a window into happenings in the backcountry skiing and snowboarding industries. Topics covered include cat skiing, powder skiing, heliskiing, snowcat skiing operations, ski reviews, and more.
The Untracked Guides heli skiing operator directory is a wealth of information on different heliskiing, snowcat skiing, alpine touring, and other backcountry ski and snowboard operators. Operations from around the globe are included. Heli skiing trip planning becomes much easier for readers, with extensive information at their fingertips on heliskiing operators, cat skiing operations, and more.
The Untracked Guides feed allows readers to be automatically updated with heli skiing and cat skiing news. Readers can subscribe to the Untracked Guides feed in their favorite feed reader or evening have it delivered to their email inbox.
Untracked Guides will be launching a new heli skiing and cat skiing guide book to be released in the fall of 2010. Readers of UntrackedGuides.com will have the opportunity to pre-order heliskiing and cat skiing guide books before they are released in book stores worldwide.
###