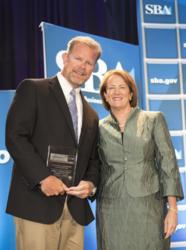 "John exemplifies what it means to be an entrepreneur," said Karen Mills, SBA Administrator.
Washington, D.C. (PRWEB) June 25, 2013
John Stonecipher, President and CEO of Guidance Aviation in Prescott, Arizona was named the Person of the Year by the United States Small Business Administration in Washington, D.C., during the 50th Anniversary of the U.S. Small Business Administration's National Small Business Week.
Stonecipher not only took home the National SBA Award for Guidance Aviation, the helicopter industry, and aviation, but also for the State of Arizona as it is the first time in the 50 year history of National Small Business Week that an Arizona business has won since the Kennedy Administration created the prestigious event. Owners from every state were present for the national event, hoping to take home the award. The Under Secretary of State for Economic Growth, Energy, and Environment, Robert Hormats spoke as did other keynote speakers including leadership from Northrop Grumman and VISA.
Earlier in the year, Stonecipher won the State of Arizona's Small Business Person of The Year before moving on to the National SBA event. The selection of the Person of The Year by the Arizona Small Business Administration is based upon the following criteria: (1) Staying power, (2) Growth in number of employees, (3) Increase in sales, (4) Current and past financial performance, (5) Innovativeness of product or service offered, (6) Response to adversity, and (7) Evidence of contributions.
Stonecipher established Guidance Aviation in 1998 with one aircraft and himself as the only employee and instructor pilot. Today, Guidance Aviation is a leading helicopter flight training organization in partnership with Yavapai College, offering a professional degree program for helicopter flight students. Currently Guidance has 50 employees, 15 aircraft and 120 full time students, many of whom are U.S. Military Veterans utilizing their GI Bill benefits for helicopter flight training.
Guidance Aviation's CEO accepted the award from Karen Mills, United States SBA Administrator, stating, "This is a great honor for me and I thank the SBA as well as congratulate all the other business owners. I am humbled to be part of such an esteemed group of professionals. I am extraordinarily proud to be bringing this home for the State of Arizona. Most importantly, I couldn't have accomplished all of this without my extraordinary parents, wonderful wife, the most talented group of professionals working with me at Guidance Aviation, and of course the students and U.S. Military Veterans working and training with us at Guidance."
Stonecipher was accompanied at the event by his wife Amanda, parents John and Ingrid Stonecipher, Guidance Aviation CFO Nancy Armstrong, and Chris Horton, Manager of Flight Operations, Guidance Aviation.