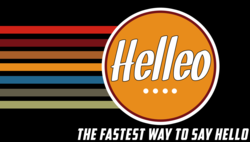 No phone number, no meeting scheduling, no call, no ringtone, no presence status
Montpellier, France (PRWEB) May 29, 2013
Blazing fast
Helleo is 20 times faster than email, 10 times faster than instant messaging, 3 times faster than phone or any video conferencing solution and of course a lot faster than going to your coworker's office. These are the first benchmark results of Helleo. Renaud GHIA, CEO of Tixeo promises "Your team members will communicate in a fraction of a second".
Dead simple
Helleo is different and breaks the rules. It requires no phone number, no meeting scheduling, no call, no ringtone, no presence status. "We have been working on video conferencing during the past 10 years, and wanted to free the user from the complexity of these systems. By rethinking all from the beginning, we designed Helleo and made it so user-friendly that it is even useful for people in a same office.", says Renaud GHIA.
Helleo will be available on June 4th, 2013 on http://www.helleo.com
About Tixeo
Tixeo is an innovative video and web conferencing software company since 2003.
Its main product line WorkSpace3D, allows anyone to set up on-line meetings, using both voice and video over IP, combined to a complete set of collaborative features such as document and file sharing, presence and ad-hoc meetings.
Not only Tixeo's solutions are available as Cloud-based Software as a Service (SaaS), on both monthly and yearly plans, but also as On-Premise licenses and Appliances.
Thousands of customers worldwide work every day with Tixeo, from SMB to large corporations, such as: Airbus / EADS, Raytheon, BNP Paribas, Conforama, Sogeti...
For further information, please contact:
http://www.tixeo.com
TIXEO Headquarters (Montpellier, FRANCE)
Renaud GHIA, CEO
Tel: +33 467 750 431