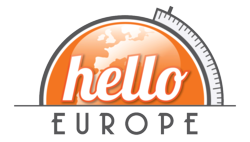 By highlighting the street art that depicts a positive light on a city's culture, we hope to encourage everyone to have a glass-half-full outlook on life.
Lisbon, Portugal (PRWEB) May 15, 2013
In today's world, chasing dreams and following your heart is believed to be a romantic notion. With terrorist plots, warring nations, and struggling economies, it is difficult for anyone to find success pursuing their dreams - particularly artists. The notion that the world today is defined by negativity and fallen hopes isn't one the founders behind project Hello Europe want to live in. Currently in the midst of an Indiegogo campaign, co-creators Guilherme Duarte, Ivo Tavares, and João Mendes, aim to help European street artists make their dreams come true.
Hello Europe has 38 days left in their crowdfunding campaign to raise enough money to fund their trip to discover buskers. In order to encourage people to help fund Hello Europe, the founders are offering Indiegogo perks of all shapes and sizes. Ranging from a Hello Europe t-shirt, to a song dedication from a busker, to traveling with the trio, there is a reward for everyone.
If one is to stroll down a bridge in Prague, venture to London's East End, walk along the Berlin wall, or wander around Paris, they may subconsciously notice the street art or performances along their journey, but the buskers behind the art remain anonymous. Even though these talented artists, musicians, and performers are a major part of a city's culture, most travelers simply walk on by, and street artists go unnoticed. However, an emerging community for recognizing and supporting street artists is beginning to form, and new projects, like Hello Europe, hope to bring busker's the recognition they deserve.
"We want to make locals and tourists alike to take a second look at buskers," says Hello Europe co-founder Guilherme Duarte. "By highlighting the street art that depicts a positive light on a city's culture, we hope to encourage everyone to have a glass-half-full outlook on life."
The three friends behind Hello Europe plan to spend 100 days in an RV, traveling to over 20 European cities. In every location they stop in, they will search and discover the three best buskers in the city. Then, a brief interview and a video displaying a busker's sketches, paintings, music, or performances will be shared with everyone following their journey via social media. Fans will then vote by liking, commenting, tweeting, and sharing their favorite street artists, and the busker with the most votes wins a prize and exposure for their work. Hello Europe's ultimate goal is to have 24 featured winning street artists, over 70 buskers with their work widely spread through social networks, and thousands of inspired followers.
Through this project, Hello Europe believes they can help everyone see life through a more positive light. By encouraging the social media world to participate in voting and making the dreams of these talented and deserving street artists a reality, this project aims to show the world we currently live in isn't a dark a place as many think. However, before Hello Europe can start their mission, they need your help to make their crowdfunding campaign a success.
To contribute to this worthwhile and inspiring project, head to Hello Europe's Indiegogo page http://igg.me/at/helloeurope. Funders' money will go towards producing a documentary on busking, some logistics, and the prizes for the 24 winning European street artists. Help Hello Europe give hope to those following their dreams, and inspire and encourage the rest of the world to do the same.
About Hello Europe
The Hello Europe project was created by a group of three friends from Portugal who want to do something different. They have all known each other for more than 25 years, and share many interests like traveling, taking photographs, meeting new people and sharing their stories. During the Hello Europe project, they will embark on an amazing adventure to create a chain of emotions. They'll travel around Europe for 100 days in an RV, visiting more than 20 countries with a main goal: find the best street performers of each city, and help them out by giving them some visibility, and spreading out the word about how amazing they are. The best in each city will receive a prize from the group. To learn more about Hello Europe, visit their Facebook page or follow them on Twitter @HelloEuropeProj.