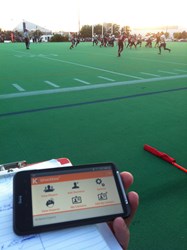 Without using helmet sensors...we would not have seen the data
Ottawa, ON (PRWEB) January 27, 2014
Many youth football programs are seeing declines in participation with tightening budgets and concussion fears of parents. The study conducted last summer followed 3 football teams in games and practices by using Shockbox helmet sensors to track hits to the head. It was found that 13 year old players had an average head impact in games of 53.8 g compared to 53.5 g for the faster, heavier and older 18 year old players. The younger players averaged 3.5 head impacts per game compared to 4.2 for 18 year olds. 11 year old players only had 1.35 hits per game and an average magnitude of 47.5 g.
The data provided some surprises to NCAFA President, Stephen Dean who sponsored the study last football season. "I did not foresee the impact similarities between the 13-14 year old players and 17-18 year olds." said Dean who has been the Association President since 2006. "The helmet sensors helped us to see what tackle programs are working well and enables us to monitor potential concussion exposure in our kids as we teach safe tackle techniques."
"Using helmet sensors to monitor teams proved to be simple, however we did not expect to see the younger players suffer such a high amount of head impact exposure or Hit Count" said Danny Crossman, CEO and Chief Technology Officer for Impakt Protective who ran the study using their Shockbox helmet sensor technology. "Using helmet sensors enabled teams to monitor their players' Hit Count and to see which tackle drills we better than others." Crossman is a founding sponsor of the Hit Count initiative created by Boston based Sports Legacy Institute and put his experience in developing helmet sensors for the US Marines and Army to use for the sports world.
The Shockbox helmet sensor technology was developed in 2010 and has since been used in research conducted by Dr Julian Bailes MD, Chief Medical Officer for POP Warner Football in 2012; the University of Pittsburgh Medical Center (UPMC) youth hockey concussion research in 2012 and 2013 and was recently approved by the Russian KHL Medical Committee for youth hockey. The helmet sensors transmit live impact alerts 325ft (100m) to a sideline smartphone or tablet and gather the linear and rotational acceleration data of each impact. The data from the study is currently being submitted to a research journal for publication.
About Impakt Protective Inc.
Incorporated in 2010, Impakt is a privately owned high-tech sensors and research company located in Ottawa, Canada and the creation of Danny Crossman and Scott Clark. Danny Crossman, a former Army bomb disposal officer and Business Development executive led the development of numerous lifesaving technologies such as the bomb suit featured in the movie The Hurt Locker; Advanced Combat Helmet impact pads; roadside bomb jammers used by the USMC and recently the Helmet Impact Sensors used by US Army and USMC to monitor mTBI in deployed soldiers and Marines. Scott Clark is an active hockey player, coach as well as hockey Dad, and a former high tech software executive with experience in eCommerce and Quality Assurance.
***********************
Impakt Protective will in New York to demonstrate Shockbox to the media at the Super Bowl Media Center, Sheraton Times Square between 27-29 January.
For further information or to schedule an interview please contact:
Danny Crossman 613-698-8752 or info@impaktprotective.com