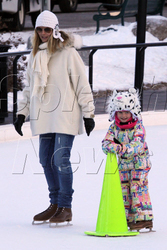 Port Washington, NY (Vocus) December 30, 2009
While vacationing in Aspen, CO on Monday, December 28, Heidi Klum and Seal took the kids ice skating – and their children Leni, Johan and Henry were wearing crazeeHeads® helmet covers!
Leni was wearing Zippy the Snow Leopard, and Johan and Henry both opted for Kleo the Tiger.
Seal stayed on the sidelines photographing his family while Heidi helped their children skate.
Margaret Spiegel, President of crazeeHeads®, was thrilled to see members of a famous family wearing her creations. "I'm so flattered and pleased that Heidi Klum and Seal chose to adorn their beautiful children with our helmet covers. But if I ever met Heidi, I'd have to ask why she was not wearing a helmet (with a crazeeHeads helmet cover) too."
crazeeHeads® now has 11 different plush animal helmet covers including three newest styles - Zoe the Zebra, Pickles the Alligator, and Cupid. All are beautifully crafted in soft polyester with cotton linings and adjust to fit helmets from a child's XXS to an adult's XXL.
New this year and premiering in January 2010 at the OR and SIA Trade Shows are stretcheeHeads - two new spandex helmet covers that stretch to fit nearly any type of sports helmet. Retail price is $27.99.
The fun and furry plush animal friends are reasonably priced from $34.99 to $36.99, and all are in stock for immediate delivery. Other styles include wine velvet for $27.99; quilted versions for $26.99; and faux animal skins for $23.99. Some people buy more than one so they can switch styles depending upon their mood or outfit.
crazeeHeads are sold worldwide through various distributors in the USA, Australia, and throughout Europe.
See all 20 crazeeHeads styles at Booth BR423 at the OUTDOOR RETAILER show in Salt Lake City UT from January 21 through January 24, 2010. Next crazeeHeads will be at Booth 948 in the SIA Snow Show 2010 in Denver CO from January 28 through January 31, 2010.
For further media information, OR/SIA appointments and photography, or general questions, please contact David Cowen via email at david(at)crazeeheads(dot)com, or call 1-866-427-2933 extension 84.
crazeeHeads® inc., based in Port Washington, NY, manufactures a complete line of helmet covers for sports enthusiasts, and can be purchased online at http://www.crazeeheads.com or by calling 1-866-4-CRAZEE (1-866-427-2933).
###