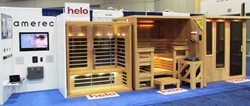 Scott Raisanen - "Saunas have remained the most requested product, with most projects including a custom, on-site built (Custom Cut) sauna..."
Cokato, MN (PRWEB) March 28, 2014
Helo Commercial returned as an exhibitor to the March 13-14, 2014 IHRSA Show (International Health, Racquet & Sportsclub Association) in San Diego. As part of the TyloHelo World Group's worldwide initiative for increasing services and products specific to the commercial sauna and steam industry, the show was a great re-introduction for the US commercial division of Helo. Helo had on display commercial steam products and several commercial sauna rooms, illustrating Helo's innovative design solutions for the sauna and steam needs of the health club industry.
Offering a full-line of heat bathing products and services, Helo Commercial's booth included:

A steam display with an AI, heavy commercial steam boiler
A custom-cut sauna display showing proper wall construction
A heavy-commercial panel-built design, utilizing heavy-duty wall and bench framing and a taller handicap accessible door
A Helo Infrared Sauna room, featuring Low EMR/Low EF
When asked about trends in heat bathing in the health club industry, Scott Raisanen, Manager of Helo Commercial Accounts, observed:
"Saunas have remained the most requested product, with most projects including a custom, on-site built (Custom Cut) sauna. These are extremely popular because of the flexibility in design and application. However, we are noticing an increase in requests for panel-built units for both traditional and far-infrared sauna. The ease of installation is appealing to existing clubs looking for a quick addition of an amenity without requiring construction that may impact their club's operation. With many infrared saunas being plug-in units and having little to no pre-heating times, many smaller clubs have begun offering Low EMR Infrared Saunas as an alternative to a traditional sauna. Commercial Steam rooms are becoming more popular as steam room design has improved making this amenity more appealing to club members."
From a global perspective, Helo Commercial's European sister companies, Helo Deco and Helo Project, commercial saunas have moved from a utilitarian design, popular for being budget friendly and for ease of installation, to a more luxurious escape with mood lighting, integration of different types of woods, and more bench and bench skirt options. The facilities that choose these higher-end installations recognize today's sauna users want more amenities and features to make a complete disconnect from the wired world of today. The same upgrades gaining popularity in Europe are available through Helo Commercial in the US.
To learn more about how Helo Commercial can assist with planning, designing, and assisting in managing the installation of a new sauna, steam, or infrared at your club, visit http://www.helocommercial.com or call 800-225-7519.