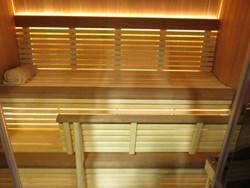 'Saunas serve many purposes...but the goal for any sauna session should be to achieve a sense of peace and serenity...' - Mark Raisanen, National Sales Manager
Cokato, MN (PRWEB) December 31, 2013
Helo, globally recognized as a leader in the sauna industry, is pleased to announce the new Serenity Sauna Interior Upgrade to make sauna bathing even more enjoyable. The designer interior upgrade will be available starting in 2014.
While all Helo saunas use premium wood and incorporate the latest designs to enhance comfort and aesthetics, the Serenity takes interior upgrades to the next level by including the following elegant design features:

Two-tone Western Red Cedar and Aspen wood for a luxurious look and feel
Luxury, tapered backrest
Curved, molded bench seat for maximum comfort
Foot rail for leg rest and comfort
Low voltage in-backrest, skirt, and leg rest lighting
3 tier bench design for maximum heat enjoyment and easy step-up
Shown with Onyx Full-Glass front
Available as custom interior on most Helo sauna models
When asked about the Serenity sauna and what inspired the design and name, Mark Raisanen, national sales manager for Helo, replied:
"Saunas serve many purposes, from bathing and detoxification to relaxation and social time with friends and loved ones, but the goal for any sauna session should be to achieve a sense of peace and serenity as stress and tension melt away. Though all of our sauna designs incorporate the highest quality sauna heaters and materials, the designs range from the most basic to highly elegant. The purpose of this design is to bring beauty with two-toned wood and low voltage lighting while focusing on creature comforts with more comfortable tapered backrests, molded benches, and a foot rail for leg rest and comfort. Finally, since heat rises, the three tier design brings bathers closer to the beloved heat."
To learn more about Serenity interior upgrade or other products available from Helo, visit the Helo website at http://www.helosaunas.com, call them at 800-882-4352, or visit a local dealer.