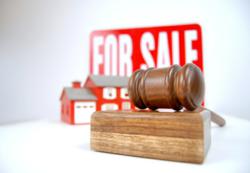 Los Angeles, Ca (PRWEB) January 21, 2013
Homeowners facing foreclosure often need help to avoid the situation. Red Blue Realty can help prevent foreclosure.
The biggest mistake homeowners make in regard to foreclosure is to take no action at all, until its too late. They're often unaware of available options, or simply cannot handle dealing with their mortgage lender. Of course, often mortgage companies are more willing to work with homeowners than realized. After all, foreclosure is time consuming and costly for lenders as well as for homeowners.
If a homeowner is willing to leave the property, the first step is to select the support of a local appraiser or real estate firm like Red Blue Realty to get a current estimate of how much a home could be sold for. With a recovering real estate market, a home may no longer be underwater, and could yield a profitable sale, allowing homeowners to walk away from the property with gains pocketed.
For properties still underwater, another option to help prevent foreclosure is a short sale. This means that the home is sold for less than the mortgage balance, with the lender agreeing to accept the proceeds of such a sale as full mortgage payment. If the lender is not amenable to this plan, a homeowner may still be able to negotiate what is called a "deed-in-lieu of foreclosure." This means that the homeowner turns the property over to the mortgage holder in exchange for cancellation of the loan.
Both options create less black marks on a homeowner's credit rating than a foreclosure and work effectively to eliminate mortgage balance. However, property owners should be certain that the lender is clearly forgiving the full amount of mortgage debt, and that the language on such an agreement has been evaluated by a real estate professional or lawyer.
Also in these situations, tax consequences should be considered, as cancelled debt may be taxed as income.
Should a homeowner want to stay in a property and help prevent foreclosure, the place to start is by assessing the amount you can pay towards your mortgage. Review bank and credit card statements for at least three months; divide the amount spent over the course of the year to a monthly number, after including yearly events such as vacations or holiday spending. With these numbers in hand for analysis, determine how to cut back on expenses to free more money toward paying the mortgage. Consider outside the box options such as taking on a tenant or terminating credit cards. Bankruptcy filing may also prevent the loss of a home and wipe out other debts.
Once an analysis is made as to how much money a homeowner can put toward the mortgage payment, the next step is negotiating a payment plan with the lender. Sometimes it's a matter of getting caught up on past payments with back payments spread out over subsequent months, or perhaps a temporary suspension in or reduction of payments.
Lenders may also be amenable to interest-free loans from HUD to get current, or permanent mortgage modification amounts. Getting help to prevent foreclosure isn't impossible. Red Blue Realty cautions homeowners in this situation to be aware of scam artists who promise help but charge exorbitant fees and offer no help at all.
With options available, homeowners simply need to address the situation before foreclosure becomes the only option left. Timely action yields choices that help prevent foreclosure.
Website: http://www.redbluerealty.com
Email: Contact(at)redbluerealty(dot)com
Phone Number: 1-(855) 66-RBREALTY or 1-(855) 667-2732