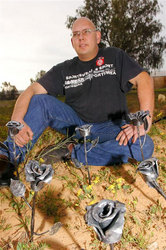 I take the Qassam, an instrument of death and I change it, transfer it, into a thing of beauty. This is my contribution to Israel
Bet Shemesh, Israel (Vocus) June 2, 2010
People all over the world want to help Israel secure a lasting peace. Artist Yaron Bob is making a difference through sculptured art. He crafts roses from metal that comes from an unlikely source – the remains of Qassam rockets fired into Israel.
His mission is to fight for peace in place of war. "I take the Qassam, an instrument of death and I change it, transfer it, into a thing of beauty. This is my contribution to Israel," says Bob.
In 2005, Israeli citizens from 21 settlements in the Gaza Strip and 4 in the West Bank were moved from their homes as a painful gesture of peace with the Palestinians. Families were uprooted, synagogues abandoned, schools and businesses closed forever; all with the expectation that the Palestinians would respond in kind. But instead of peace, there was more war. Thousands of rockets were fired into the Israeli town of Sderot and its surrounding communities.
Yaron Bob lives and works in Yated, a village just a few kilometers from Gaza, and was all too familiar with the daily rocket attacks. It was then that Bob had the idea for the roses. He quotes a passage from the Bible which speaks of changing agents of destruction into symbols of peace, citing the verse from Isaiah (2:4) about "beating their swords into plowshares, their spears into pruning hooks."
Each rose takes up to 4 hours to sculpt and is welded onto a metal base shaped into a map of Israel. The stem extends out of Sderot, the Israeli town from where most of the rockets had hit. A plaque records the month and year the rocket landed. The roses are limited edition pieces. A portion of each sale is donated to Operation Lifeshield to build above-ground portable bomb shelters.
The rose sculptures have been presented to, and acquired by emissaries from around the world including; Sen. John Kerry, Secretary of State Hillary Clinton, UN General Secretary Ban Ki-moon, actress Mia Farrow, and others.
Yaron Bob's work has been featured by the New York Times, Jerusalem Post, CBN News and numerous other media outlets.
For more information on Yaron Bob's story, go to: http://www.rocketsintoroses.com
For immediate access to photos of the artist and roses go to:
http://www.rocketsintoroses.com/photos.html
About United With Israel Ltd:
United with Israel Ltd. is a cause-based organization, deeply committed to the survival and prosperity of Israel. Our primary mission is to foster global unity with the People, Country and Land of Israel. United with Israel's mission is to expand its global network of supporters, distribute critical information about Israel and to offer unique, meaningful products from Israel. Products that speak to the heart, support Israel businesses and donate greatly needed funds to vital charities in Israel.
For more information, go to: http://www.unitedwithisrael.com
# # #