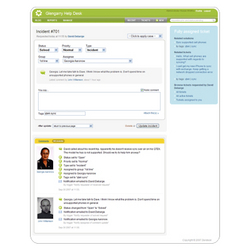 Management wants results. There's no room left over for IT to experiment
(PRWEB) October 17, 2007
Help desk managers, take note. The days of bloated, resource-intense help desk management programs is numbered. Zendesk (http://www.zendesk.com)] ushers in a new approach to IT help desk management , one that is client-focused, Web 2.0 enabled, simple to use, fully customizable and adheres to best practices of ITIL. Zendesk is truly help desk nirvana.
Zendesk addresses a fundamental truth of the 2007 IT business scene. "Management wants results. There's no room left over for IT to experiment," said Mikkel A. Svane, Zendesk CEO. "These things should just plain work."
Starting at only $49/month, Zendesk works beautifully. IT professionals get access to a hosted application that is beautifully designed, intuitive for client use and a model of simplicity for the IT pro. Each ticket retains a unique URL. Pages contain all the information needed to quickly and easily address customers' needs, including case status and a transcript of the ticket conversation. Reporting tools make it easy to record resolutions for use on future tickets. For a tour of Zendesk's extensive feature set and elegant design, visit http://www.zendesk.com/tour
Novel use of Web 2.0 tools makes Zendesk stand out. Freeing help desks from the rigid tree structure common to outmoded help desk applications, Zendesk uses tags to define tickets, providing a whole new way to discover relationships between incidents, suggesting solutions that work.
Zendesk contends that most help desk products are trapped in an early 90s, costing too much or trying to do too much and failing. Zendesk changes the game because:

It's cheap From $49/month
It's easy Well, as easy as setting up an AT&T iPhone account
It's less On demand, nothing to install, maintain or worry about
It's modern A social REST'ed loosely coupled unwalled garden
It's loyal Industry standard native (ITIL)
It's zen :-)
Meet the future of IT Help desk management. Give Zendesk a try today.
About Zendesk
Zendesk is engineered in Copenhagen by a talented team of experienced entrepreneurs. Each brings experience from a unique professional background – from help desk industry know-how, web design, software development and management consulting. Mikkel A. Svane. CEO of Zendesk, has led a distinguished executive-level career in various IT industries, most recently as an IT Management consultant in some of Scandinavia's largest organizations.
###