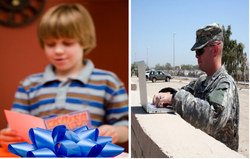 When deployed, my clear choice for gift delivery during birthdays and holidays is The Holiday Patrol.
Middletown, CT (PRWEB) April 28, 2009
TheHolidayPatrol.com, a new online company that takes care of the entire gifting process from start to finish, is putting themselves into US soldiers shoes; empathy-wise, that is. They are dedicating a large portion of their company to helping deployed soldiers give gifts back to their families while they're away during the holidays.
The Holiday Patrol is a Complete Online Gift Arrangement Service that shops, gift-wraps and ships to whomever you want, whenever you want, on your behalf, with the privilege to pre-order gifts up to a year in advance. Their mission is to make sure your loved ones are never forgotten; even if you forget, they won't.
The owners of The Holiday Patrol, Jennifer and Ed Bagnaschi, know first hand what it's like to be separated during major holidays due to military deployment. In 2002, Ed, an ex-navy sailor, was deployed on the USS Camden to the Persian Gulf for eleven months, missing every birthday, anniversary, and traditional US holiday. "I would get tons of gifts from home while I was out to sea, but I felt bad because I could never give anything back. I had to wait until I got back to the States to give my family presents," says Bagnaschi.
"Our brave men and women receive so much love, support and gifts from their families, but they aren't able to show them the love back through the gift of giving" says owner, Jennifer Bagnaschi, "That's why we want to help our soldiers first hand."
TheHolidayPatrol.com had been promoting their services to residential and commercial settings, but has come to the conclusion that "the Active Duty Military needs this most." The company knows that millions of soldiers have children that wish their deployed fathers or mothers could be present for their birthdays, graduations or weddings, or have anniversaries spent away from their spouse, and know that just a simple gift could maybe give them a feeling that their deployed loved-one is there for a moment, or at least has thought of them.
As word about The Holiday Patrol spreads, military men and women are expressing their gratitude. Chief Doug Erwin of the US Navy, Guam USA proclaims, "This is the greatest idea!" As a member of Maritime Expeditionary Security, my unit is highly deployable and is gone at a moment's notice. The peace of mind provided by the Holiday Patrol is phenomenal! The service provided by the Bagnaschi couple, with their experiences in the military, adds a personal touch and a feeling of family. I know when I place an order, delivery is guaranteed. "When deployed, my clear choice for gift delivery during birthdays and holidays is The Holiday Patrol."
Contact:
Jennifer Bagnaschi, CEO/Founder
The Holiday Patrol, LLC
800-996-0437
contact @ TheHolidayPatrol.com
http://www.TheHolidayPatrol.com
###