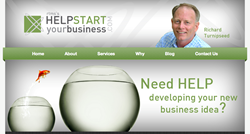 Dallas, TX (PRWEB) August 08, 2013
Dragonfly Creative Design is launching Richard Turnipseed Management's new website designed to connect entrepreneurs interested in starting a business or fine tuning their existing business with the business advisers at RTMS. The new website called, "Help Start Your Business" targets success minded entrepreneurs with business consulting services ranging from business plans and securing financing to budgeting and assessment of markets and competition.
The helpstartyourbusiness.com website features a crisp clean design and clear organization allowing potential clients to review available services quickly and easily make contact with RTMS to begin a dialogue.
"Richard Turnipseed Management Services has been providing practical consulting services to small and medium sized businesses for several years. It was our job to provide a public showcase for their services that would allow potential clients quick and easy access to information about their business consulting services," says Christopher Oliver of Dragonfly Creative Design.
Richard Turnipseed Management Services provides assistance with preparing business plans, securing financing, developing financial budgets, assessing business competitors, defining business markets, setting up operational systems and accounting and defining licensing requirements for both startups and existing businesses in Dallas, TX. For more information about Richard Turnipseed Management Services visit their website at helpstartyourbusiness.com.
Dragonfly Creative Design is a web design and graphic design firm based in Allen, TX and Plano, TX. They specialize in logos and branding, web design, interactive design and print design. For more information about Dragonfly Creative Design visit their website at dragonflycreativedesign.com.