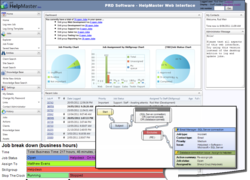 A slick new look, new small business-friendly pricing, and a powerful new add-in manager makes this the best release of HelpMaster ever.
Canberra, Australia (PRWEB) July 20, 2011
PRD Software announces the release of the next major version of the award-winning helpdesk / service desk software HelpMaster v11. This new version has many major enhancements to the core functionality, including a completely new visual interface for the email response management module, the customer self-service portal, and the desktop edition.
"As usual, many of the improvements featured in v11 have come from real-life user requests, and we are very pleased to be able to respond to the HelpMaster community by releasing this new version which meets their needs. The new billing and 'stop the clock' service level agreement timer really takes HelpMaster to a new market segment" says PRD Software managing director, Rod Weir.
Affordable helpdesk software for small business and SMEs
Starting from this release, HelpMaster will be offered in 3 editions, each with a different feature and price profile. This allows business of all sizes to choose a price and feature set that is the best fit. This is great news for small businesses that want fully-featured helpdesk and service management functionality, but cannot afford top-tier product prices." Rod Weir continues - "The small-medium enterprise (SME) market represents a significant part of our market share, and our new bundled pricing means even better value for this sector. With prices starting at $195, this is the most affordable version of HelpMaster we've ever released."
Additional highlights of the v11 release include:
1. Billing, invoicing and great financial control over time spent on helpdesk tickets
2. "Stop the clock" job status indicator to calculate the age of helpdesk jobs in business time
3. 80+ new Crystal Reports for all styles of service management reporting
4. Powerful new Add-In manager and API to allow developers and system integrators to extend the functionality of HelpMaster as well as integration with other web-based services.
5. A smarter, faster user interface featuring customizable searching and filtering
For further information about what is new + screen shots, see http://www.helpmasterpro.com/Products/What-is-new-for-HelpMaster-v11.aspx
This release further demonstrates PRD Software's focus on delivering advanced, practical helpdesk functionality, at an affordable price for both small and mid-sized organizations. HelpMaster allows not only IT service management, but all businesses who are looking to deliver outstanding client support a solution that has been designed from the ground-up to provide out-of-the box service best practices that can be aligned with ITIL and ITSM frameworks.
About PRD Software
PRD Software (http://www.helpmasterpro.com) is the developer of HelpMaster - an integrated management software solution for IT and support professionals working in the helpdesk and service management industry. HelpMaster is developed using the latest Microsoft .NET technology and is available in both a Windows and Web interface. Functionality includes Active Directory, Incident Management, Problem Management, Email Response Management, Knowledge base, SLA / escalation module, Assets tracking, Queue Management and more. HelpMaster is currently being used globally in a wide range of industries including, finance, education, business, medical, hospitality, local government and many others.
Headquartered in the Australian capital, Canberra, PRD Software has delivered helpdesk and service desk solutions since 1996. We are passionate about creating the best service desk software and providing the professional support and services to our clients around the world.
Please visit helpdesk software for further information.
###