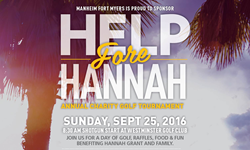 Once you meet the family and you get to know her and you realize this could have happened to anyone, it makes you realize how blessed you are and what you can really do to make a difference
Cape Coral, FL (PRWEB) September 22, 2016
The 8th Annual Help Fore Hannah Charity Golf Tournament will take place Sunday, September 25 starting at 8:30 am at the Westminster Golf Club located at 2199 Berkley Way, Lehigh Acres, FL.
In an effort to spread the charity's message, Moore & Scarry Advertising recently produced a video promoting the upcoming event.
"We feel very fortunate to be able to help promote such a great cause," commented Jacquie Miller, VP and GM of Moore & Scarry Advertising. "Our goal with this video was to help drive additional support for the event and the charity overall," she said when asked about the agency's involvement in the charity.
The automotive advertising agency also provided footage for a local PSA that has been running in the Fort Myers zone since September 10th and will continue to run until the event on Sunday.
The charity golf tournament, now in its 8th year, is largely supported by Manheim, an automotive auction house that works with other local leaders like the Sheriffs Office to cover costs with the goal of ensuring that the charity receives one hundred percent of all proceeds.
"Once you meet the family and you get to know her and you realize this could have happened to anyone, it makes you realize how blessed you are and what you can really do to make a difference," Tom Hammer, GM at Manheim commented. "It's always a great day when I can help shift the focus on spending quality time with their daughter rather than dealing with so much of the financial burden," he added.
About Help Fore Hannah
Help Fore Hannah was founded by Lynn and Scott Grant following their 6-year old daughter Hannah's traumatic brain injury – a direct result of a distracted driver running a red light at 55mph.
After seeing their lives changed forever, the Grants were determined to let people know just how much of an impact one mistake could have. They appear regularly at special events, press conferences and in television and newspaper interviews with their daughter Hannah to promote Stay Alive… Just Drive!
About Moore and Scarry Advertising
Founded in 2001, Moore & Scarry Advertising has grown to become the nation's largest Tier-3 automotive advertising agency and one of the largest businesses in Southwest Florida.
Known as the "Original TraDigital Agency", the award-winning agency currently represents more than 300 automobile dealers across the country, including dealer groups appearing in the Fortune 500 and Automotive News Top 125. The agency's portfolio also includes two award-winning digital and social media subsidiaries: DyGen and Sparq.