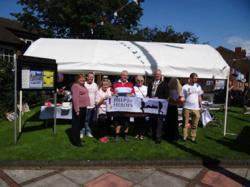 Help for Heroes team takes honours!
Manchester (PRWEB UK) 24 September 2012
A recent fundraising event organised by Ryan Air Conditioning Spares has been highly successful raising over £3000 with everyone enjoying the many events that took place.
Help for Heroes is a British charity set up in order to help provide better care and facilities for British servicemen and women who have been wounded since September 11, 2001. This event was done in order to raise money for St. Mikes fundraising page, which has now raised over £3000 from offline and online donations.
The event which was held at St Michaels Social Club, Liverpool Road, Peel Green, Eccles went off without a hitch, with everyone doing their part in making it an enjoyable experience. The day began with a charity football match at Salford city academy which finished with an 8 all draw, the Help for Heroes team, "JAY OK", took the honours after the match finished, which was in great fashion with Pete Sheridan scoring a brilliant penalty against keeper Paul Griffin.
Next on the agenda was a tug of war match, where the smaller side Peel Green Lads overcame the odds and won 3-2. The final and most fun event was the welly chucking, this was great for everyone even in the wet conditions. Andrew Khan threw a whopping effort to win the event with a cheer.
The day wasn't over though, it was now back to St. Michael's Social Club in Peel Green for the official opening of the Family Fun Day which was opened by Councillor Bernard Lea the Ceremonial Mayor.
The opening of the event began with former manager of the Help for Heroes team Jay Robb being awarded a trophy. Then the real fun began with stalls being open, these included stalls and activities for all ages, from face paintings, children's dancing, refreshments, sweets, drinks and cakes and for the adults a tombola, raffle and all kinds of bric-a-brac. To finish off the children's delight the Fire service arrived with a full engine of equipment for them to explore. Later the adults could indulge In their own fun activities with darts, pool and poker tournaments taking place.
It didn't finish there, with the evening events beginning with a game of stand-up bingo followed by a excellent table magician with the Salford band Elwood accompanying with a fantastic set. The evening then came to its close with another band, this time local Eccles band Cellar V with a special guest appearance from Jay Robb topping it off with much delight.
The raffle's and tombola's ran throughout the night with some wonderful prizes won which had been donated by local business's including a signed Micah Richards Manchester City shirt auctioned to the lucky winner John Morris who had donated a fantastic five hundred pounds towards it.
A big thank you to all who competed and contributed to the family fun day. For more information see http://www.facebook.com/RyanAirConditioningSpares