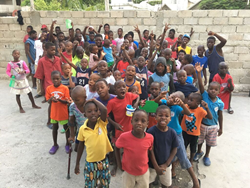 "Becoming a child sponsor is a great way to connect with our ministry and see the tangible benefits of your donation. Sponsorship is key to our work and allows us to make plans for the children's care, shelter, schooling, etc."
(PRWEB) October 25, 2018
When Mike and Carrie Gibson traveled to Haiti in 2007 they were struck by the words of a small child. She followed them uttering the word "grangou" or hungry in Haitian. The couple had gone to the island nation to adopt a child. But the meeting with the little girl now sent them on a completely different mission – one to help the countless children in Haiti in desperate need.
In 2008, they started the charity Grangou to help the abandoned street children struggling to find shelter, get food and stay safe on the busy streets of Port au Prince. Initially, they built relationships, bringing the children supplies and food every month. Then in 2010, the earthquake that devastated the country winded up paving the way for Grangou to open a home for homeless and at-risk children.
The Travay Bondye Home started with 40 kids and it now houses 67. It provides shelter and all the other things the children need to turn their lives around. Grangou also has a "teens in transition" program to help the kids become productive members of society after they turn 18. The charity partners with churches and offers mission trips. Grangou is unique among charities in that every penny donated goes to help the kids!
While Grangou has seen many successes, one of its biggest is a child who went through the program and is now pre-med in college. 10 years after starting Grangou, the Gibsons remain committed to raising awareness about the extreme difficulties of life in Haiti. Through their charity, they hope to feed the hearts, minds, and bodies of Haitians in need.
Currently, they're attempting to raise $290,000 to purchase a permanent home for the Travay Bondye home which has had to move 5 times since it opened.
For more information on this unique charity visit https://grangou.org or if you'd like to feature the Gibsons in an article contact izzy@teamchicexecs.com.