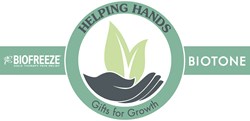 We received over 480 applications representing more than 165 massage therapy schools.
Akron, OH (PRWEB) November 18, 2013
BIOTONE and BIOFREEZE are pleased to announce the winners of their collaborative Helping Hands Gifts for Growth grant program. The program was launched in May 2013 to support the professional massage therapy student in their educational pursuits or endeavors to launch a massage therapy practice. Students applied for one of four $1,000 grants. In addition, each winner's school received a $1,000 grant package. All applicants were asked to complete a 100 word essay on "How as a massage therapist, my helping hands would make a difference." Submissions were due by the first of November.
The winners are:
Teresa J. Alger, Central Maryland School of Massage, Frederick, MD
Chadwick M. Handville, Cortvia Institute, Scottsdale, AZ
Christine M. Patacsil, Institute for Massage Education/Kalamazoo Center for the Healing Arts, Kalamazoo, MI
Mary E. Rone, National Holistic Institute, San Francisco, CA
"It was truly gratifying to see the excitement and response to this new program. We received over 480 applications representing more than 165 massage therapy schools. We are very pleased with the results," stated Jean Shea, President, BIOTONE. "Those in our industry possess a real passion and desire to make a difference, so we know it wasn't easy for our distinguished selection committee to choose the four winning essays—truly the best of the best. Thank you for taking on this difficult task."
The committee members were Angie Dubis, CMT, Educational Consultant for BIOTONE; CG Funk, Vice President, Massage Envy; Theresa Matthews, LMT, CPT; Sharon Puszko, PhD, Owner, Daybreak Geriatric Massage Institute; Cherie Sohnen-Moe, President, Sohnen-Moe Associates, Inc.; and Scott Dartnall, President and CEO, One Concept.
"Both of our companies have been involved in supporting continuing education and will continue to be. This was an expansion of our individual efforts and provided an opportunity for two industry leaders to work together to contribute to our profession's strength, vitality and future," added Marshall Dahneke, CEO, Performance Health, makers of BIOFREEZE. "Hopefully by doing this, we've been an example to others who can also contribute to the educational support of the massage therapy profession. When more organizations get involved, we can collectively start to make a bigger difference."
Like us on Facebook.
About BIOTONE - BIOTONE® products are a top choice domestically and internationally across a range of markets, including spas, massage therapy private practices, professional massage training schools and also are widely used by physical therapists, chiropractors and hospitals. BIOTONE complements its massage and spa treatment products with a wide selection of aromatherapy, music, videos and accessories all designed to enhance a practitioner's knowledge and sense of well being.
About Performance Health- Featuring leading brands like Biofreeze®, TheraBand™, Cramer®, Prossage® and Pedigenix®, Performance Health offers a broad portfolio of products for the therapy, rehabilitation, wellness, massage, sports medicine, performance and podiatric markets. In addition to market-leading products, Performance Health provides practice building support, evidence-based protocols, clinical and product education, turn-key dispensing and pain management solutions.