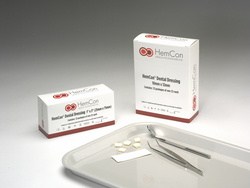 We have been looking for a new innovative product to broaden the scope of our industry-leading family of regenerative products
Portland, Ore. (Vocus) September 16, 2009
HemCon Medical Technologies, Inc. ("HemCon"), a leading developer of advanced medical products, is proud to announce the signing of an exclusive global distribution agreement with Zimmer Dental Inc. , a leading provider of dental oral rehabilitation products and a subsidiary of Zimmer Holdings, Inc. Through this agreement, Zimmer Dental will supply HemCon's line of revolutionary oral wound care dressings for all dental applications throughout the globe.
HemCon Dental Dressings are based on HemCon's unique chitosan platform technology which is most notably being used as the basis for their proprietary hemorrhage control bandages on the battlefield and in acute care settings. HemCon Dental Dressings effectively seal any oral wound and minimize pain in various dental, periodontal, and oral surgery procedures, culminating in a more positive experience for both clinicians and patients.
"HemCon is excited to aggressively pursue these markets with a strong partner like Zimmer Dental whose hundreds of global sales representatives will assist in penetrating key markets around the world," said HemCon CEO John W. Morgan. "Along with our hemostatic HemCon® dressings, our HemCon Dental Dressings will broaden the positive impact our technological innovations offer to improve care for patients on a global scale."
For decades, Zimmer Dental has gained the trust of thousands of clinicians worldwide who count on its comprehensive line of scientifically-proven products to deliver successful patient outcomes and the best value in the industry. "We have been looking for a new innovative product to broaden the scope of our industry-leading family of regenerative products," said Harold C. Flynn, Jr., Zimmer Dental's President. "We feel that the HemCon Dental Dressing reinforces Zimmer Dental's ongoing goal of empowering clinicians and shaping the future of implant dentistry."
About HemCon Medical Technologies Inc.
HemCon Medical Technologies Inc. is a leading global developer of advanced medical products designed to improve the standard of patient care. The company is responsible for developing the chitosan-based HemCon dressing used by thousands of military and civilian first responders and is changing wound care best practices in hospital, dental and clinical settings. In addition, HemCon is leading the charge to develop and license unique, life-saving medical advances including lyophilized human plasma and nanofiber technologies for wound care. HemCon is headquartered in Portland, Ore., with additional commercial operations in Ireland, England, Germany and the Czech Republic. For more information, please visit http://www.hemcon.com.
Public Relations Contact:
Simona Buergi
HemCon Medical Technologies Inc.
503-245-0459
# # #