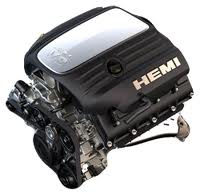 These Hemi crate engines are now offered to performance car owners, project car builders, vehicle owners and others.
Detroit, Michigan (PRWEB) April 03, 2013
The Chrysler Corporation produces the Dodge brand of vehicles as well as the engines that are used to power these vehicles. The Hemi variant is one type of motor produced by this company and is now sold in rebuilt condition at the CarEnginesforSale.com website. These Hemi crate engines are now offered to performance car owners, project car builders, vehicle owners and others utilizing the power of the Hemi motor inside applicable vehicles. Details about this engine type can be found online at http://carenginesforsale.com.
The original conception of the Hemi engine was created in the 1960s during the muscle car era. Chrysler revamped its Hemi offerings in 2003 with the introduction of the Charger. Recent installations of the 5.7 series include the Jeep Cherokee and Dodge pickup trucks. The reconditioned motors that are now added for sale online are expected to provide the options that buyers cannot find through other resources online when pricing or researching a replacement engine.
The CarEnginesforSale.com website currently sells car, truck and SUV engines for prices lower than MSRP. These motors are offered to United States and Canadian buyers. A recent change to the inventory policy has helped to introduce more engines to the general public. Recent additions to the Ford and Chevy inventories have helped to offer better ways to locate an engine that could be difficult to acquire through some resources. This expansion is in addition to the Dodge engine increases recently announced.
To help engine buyers receive faster shipments, a same day policy for shipping has recently been enacted by this company. Customers who utilize the toll-free telephone number system or new online quotation form online receive faster processing. This processing ensures that all engines are shipped on the same day as ordered to help eliminate delays that could be a problem through some retailers. These expedited shipments are one way that this company is providing better value to all customers.
About CarEnginesforSale.com
The CarEnginesforSale.com company supplies reconditioned engines to buyers in North America and Canada. This company provides lower than dealer pricing as a way to create more competition between sellers on the Internet. The types of discounts that are offered by this company are frequently monitored for success and changed often. The CarEnginesforSale.com company provides 3-year warranty protection with all sales of rebuilt engines to vehicle owners and trade industry clients. This company extends this warranty protection as an additional incentive for buyers selecting this company to provide replacement motors.