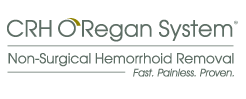 It is a devise designed specifically for the treatment of hemorrhoids; therefore the doctor is able to do the procedure in as little as 60 seconds
San Francisco, CA (PRWEB) September 25, 2012
The Center for Colorectal Health, a medical facility in San Francisco that provides care for perianal problems, is now featuring the world's best technology in hemorrhoid removal: the CRH O'Regan System.
"It is a devise designed specifically for the treatment of hemorrhoids; therefore the doctor is able to do the procedure in as little as 60 seconds," Myriam Heffernan of the Center for Colorectal Health said. "The devise is also disposable. so there is no chance of contamination whatsoever."
The procedure is painless and effective. It requires no fasting prior to the treatment, no preparation and no anesthesia. As there is no downtime, patients can go back to work or resume their activities on the same day. Furthermore, it is covered by most insurance plans.
The O'Regan System is a patented disposable device.
The Center for Colorectal Health also specializes in the treatment of other issues, such as bleeding, fissures and problems in the colorectal area.
For more information about The Center For Colorectal Heath's services, please call 415-766-0173 or visit the website at http://www.fissuretreatmentsanfrancisco.com.
About The Center for Colorectal Health
The Center for Colorectal Health is a San Francisco medical facility specializing in hemorrhoid removal and fissure treatment. The office specializes in hemorrhoid treatments and all benign perianal problems that can present with bleeding of any type. Its professional team is able to remove these agonizing issues in an easy and painless fashion.
The staff, as well as the doctor, provides stress-free and hassle-free visits. And their experience and expertise is first rate in the San Francisco Bay Area. Dr. Million has more than 20 years of experience treating hemorrhoids, fissures and conditions associated with the anus that can result in bleeding. She is double board certified and highly recognized within her field.