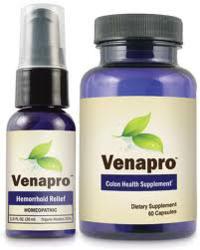 The new non-irritating formula created by Venapro is an oral spray.
San Francisco, California (PRWEB) December 13, 2012
An all-natural hemorrhoids spray has been launched online by Venapro.com. This new solution is offered to men and women that suffer from discomfort that can be caused by digestive disorders. The relief that is offered with this new formula can be used as an alternative to medicinal treatments or surgeries that might require long-term commitments.
Medical research has confirmed that a hemorrhoid can have more than one cause. Those that have problems digesting food, have constipation or women that are pregnant can often suffer the effects of this disorder. Some over-the-counter creams are available although these generally provide relief for itching and burning and can do little to eliminate the problem.
The new non-irritating formula created by Venapro is an oral spray that is designed to get into the blood stream quickly. This new innovation in digestive health is making it easier to help cure the actual problem caused by a hemorrhoid. This new spray solution can be taken orally underneath the tongue up to three times each day to allow the formula to help heal.
According to the Mayo Clinic on its website, over half of men and women that reach the age of 50 have had to deal with the symptoms of hemorrhoids. This can include burning, bleeding or itching that can cause some people to feel embarrassed. The Venapro.com website now offers its solution as one method of correction that a person can take to help feel relieved from this condition.
The clinically tested formula that is now offered to men and women is provided with a full guarantee. A period of up to 90-days can be used to sample the spray solution to allow men and women to receive the full benefits of the natural ingredients that are offered. This new formula is not yet sold in stores and is only available online.
About Venapro Natural Products
The Venapro Natural Products company is one of the few manufacturers of health and wellness formulas that include natural ingredients. First launched in 2002, this Natural Health Products member now produces a range of formulas to help men and women around the world to seek relief for common health and wellness issues. The Venapro Natural Products line includes clinically tested ingredients that are designed to offer relief to those that depend on these homeopathic solutions to help contribute to living healthier and happier.