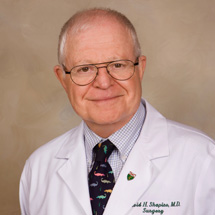 "I am not at the end, but rather the beginning of a new career, and I am excited about making our new clinic, HTCF, grow and become recognized as the place to go for the best treatment of hemorrhoid disease." - Dr. David H. Shapiro
Tampa Bay, FL (Vocus/PRWEB) February 17, 2011
The Hemorrhoid Treatment Center of Florida, located just west of Old Tampa Bay in Clearwater, has opened its doors for residents of the Tampa Bay area who are suffering from symptoms of Hemorrhoidal Disease. At the helm of the hemorrhoid treatment center is Dr. David H. Shapiro, M.D., a Yale-trained veteran of the healthcare system in Florida who currently holds the position of Clinical Professor of Surgery at the University of South Florida's College of Medicine. The Hemorrhoid Treatment Center of Florida offers quick, easy, and painless treatment of the root cause of Hemorrhoidal Disease through the utilization of the Ultroid® hemorrhoid management system.
Dr. Shapiro contributed to the research and design of the Ultroid® hemorrhoid treatment system, which allows painless hemorrhoid treatment for cases of internal and mixed hemorrhoids in a matter of minutes without the use of surgery. Additionally, this treatment does not require anesthesia or any other type of invasive procedures. For those who suffer from the symptoms of hemorrhoids, this quick, painless treatment will allow them to approach their condition without feeling apprehensive about a complicated surgery, long recovery time, or the scheduling difficulties associated with surgical procedures in hospitals or surgical facilities.
HTCF also treats those who are suffering from more serious, painful cases of external hemorrhoids. Some external treatment options include open surgery, stapled/PPH, or rubber band ligation. The Hemorrhoid Treatment Center of Florida is fully capable and equipped to treat Hemorrhoidal Disease in an outpatient setting with the experience and steady hand of a veteran surgeon.
As a native of New England who relocated to Florida in the 1970's, Dr. Shapiro received his undergraduate education at Williams College in Williamstown, MA and his M.D. at Boston's Tufts University College of Medicine. He then completed his surgical training at Yale New Haven Hospital, where he served as Chief Resident until 1971. After arriving in Florida, Dr. Shapiro remained deeply involved in both the practice and education of surgical procedures during his time at Morton F. Plant Hospital in Clearwater and the University of South Florida's College of Medicine.
More recently, Dr. Shapiro dedicated his research to the implementation of painless methods of hemorrhoid treatment, the fruits of which he currently employs in the Hemorrhoid Treatment Center of Florida. When reached for comment about his shift from hospital staff to independent practitioner, Dr. Shapiro stated, "I am not at the end, but rather the beginning of a new career, and I am excited about making our new clinic, HTCF, grow and become recognized as the place to go for the best treatment of hemorrhoid disease." For those seeking a hemorrhoid doctor in Tampa Bay, Dr. Shapiro offers treatment backed by both cutting-edge technology and years of experience.
The Hemorrhoid Treatment Center of Florida is located at 1700 North McMullen Booth Road, Suite C, in the Hidden Oaks Professional Office Park in Clearwater, and can be contacted at (727) 724-4279. The center offers treatment for hemorrhoids throughout the Tampa Bay area, including Clearwater, Tampa, St. Petersburg, Pinellas Park, Largo, and Seminole. A free consultation can be scheduled via phone, or through the Hemorrhoid Treatment Center of Florida's website.
# # #