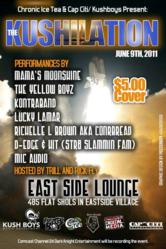 Atlanta is my home—and the perfect place to start getting people in the South excited about Chronic Ice.
Atlanta, GA (Vocus/PRWEB) June 09, 2011
Representing the Kush Boys on the East Coast from Washington, DC, Lucky Lamar and Dread Tha Ol'Head (aka The Cap Citi Kush Boys) will host a Chronic Ice tea-ser party called "The Kushilation" tonight at the East Side Lounge in Atlanta starting at 8:30 pm.
In addition to sampling Chronic Ice, a smooth blend of green and black teas and hemp seed powder, the evening's schedule is packed full of performances by local talent, such as TNT Famille, Mama's Moonshine, the Yellow Boyz, Cornbread & The Space Age Hippies, D-Edge & Hit (Str8 Slammin Fam), Mic Audio, ATL Nutbush and Lucky Lamar himself.
"Atlanta is my home—and the perfect place to start getting people in the South excited about Chronic Ice," said Lamar. "We plan to host parties like this every month in different cities to induce our all-natural hemp drink and support local artists."
In addition to straight samples of the hemp tea, Chronic Ice will be available at the bar as a mixer for special drinks that include the Chron Island Ice Tea, High Roller, Chronic Candy Mar-Tea-Ni, Kushboy, Tea-HC and Chronignac.
Comcast Channel 24 Dark Knight Entertainment plans to record the event, and Rick Fly Live TV will conduct interviews for his program. The event is being sponsored by Chronic Ice Tea, East Side Lounge, Affiliated Digital Media, Cap Citi Kush Boys, Dark Knight Entertainment and Rick Fly TV.
Chronic Ice is the nation's first drink containing hemp. The antioxidant-rich, healthy tea also contains organic sugar cane, a high quality green and black tea blend, lemon essence and ascorbic acid. It is free of preservatives and high fructose corn syrup and contains only 80 calories per serving.
"People don't get high drinking our tea, but they might get healthy," said Tony Van Pelt, founder of Chronic Ice. "Although its name is a play on marijuana, Chronic Ice does not contain any cannabis or THC."
Although the health tea is in growing demand from health food and hemp enthusiasts, Chronic Ice can only be purchased at select stores in Southern California and Washington State. The company is negotiating distribution deals to increase availability. In addition to expansion plans, new flavors and packaging options are in the works.
The following artists are scheduled to perform tonight:
About Mama's Moonshine
Mama's Moonshine is Fleetwood Coup Daville and Betty Boo Banksta, who met in 1997 in Atlanta and formed a 6-piece band in 2001. The band includes a bass player, a drummer, a guitarist, two back-up singers and a keyboard player.
The band started performing all over the Atlanta area, opening up for acts like India Arie, Dead Prez and Juvenile. In 2008 they dropped their first album, titled "The Life and Times of Betty Boo Banksta and Kooda Rang Dang." Their current music is a collection of up-tempo music aimed for the clubs and people they say are not afraid of change and who love to live life like there's no tomorrow.
The Yellow Boyz
Hailing from the north side of Atlanta, the Yellow Boyz are a three-person, high energy, lyrical southern hip hop group. Drawing on influences that include TI, Eminem, Big L and Dipset, they bring a unique combination of high energy dance tracks with witty wordplay.
This international act has performed with Jackie Chain (Universal/Motown), and opened for Young Dro, Yung LA, Big Kuntry King (Grand Hustle/Atlantic), Method Man & Redman, Soulja Boy, and in Korea with San E (JYP), Dumbfoundead, MYK and Dok2.
Lucky Lamar
Lamar is a producer-songwriter-rapper whose music is derived from jazz, blues and hip hop. He creates a new sound, blending his influences into a signature style that's unique and relevant to urban music today. Follow him on Twitter @LuckyLamar
Richelle L. Brown aka Cornbread
Bringing back true moxie and funk to the music sphere, Richelle L. Brown is that missing energy. Crowned the new queen of Electro Funk Dance Music, Brown is a passionate singer, songwriter and performer birthed from that gritty red clay and southern spunk of what we innately call Georgia. Brown joins the movement of retro songstresses that are invading the hyperspace experience. Similar to the Acid Jazz wave of the 90's that garnered such artist as Nadea Davenport; Brown is that new funk.
For more information about Chronic Ice, call (415) 734-8350 or go to the website http://www.chronicice.com/.
About Kush Boys Worldwide
Kush Boys Worldwide is a Los Angeles-based company committed to pursuing ventures that benefit a demographic they call the new-age pop culture. Current projects include the online adult animated series Master Kush that features the voice talent of Tommy Chong; an eco-friendly clothing line for the urban demographic called Kush Couture Lifestyle Apparel (KCLA); an all-natural iced tea made with hemp known as Chronic Ice; the natural male enhancement supplement Sir Rock; and Kush Boys Studios.
###