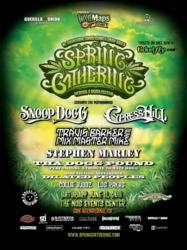 Los Angeles, CA (Vocus/PRWEB) June 09, 2011
Spring Gathering is about celebrating the special relationship between music and medicine. Music is medicine. Marijuana is medicine. The gathering, happening at San Bernadino's NOS Events Center on June 11, is California's largest medical marijuana event. It brings together some of the prominent authorities and supporters of medical marijuana like Ed Rothenthal and Michael Backes, and A-list talent like Tommy Chong, Snoop Dogg, and Cypress Hill. Chronic Ice, a delicious and nutritious hemp beverage, will be on hand (and in hands), ready to refresh the revelers.
"Chronic Ice is going to be all over the place at Spring Gathering—we'll be on stage with the stars and in the hands of participants when they come in and when they leave," said Tony Van Pelt, founder of Chronic Ice and ChronicCandy.com. The hemp beverage will be given away as samples and available for purchase at the festival.
Chronic Ice is a refreshing health tea, made with organic sugar cane, a green and black tea blend, lemon essence, ascorbic acid and, of course, hemp seed extract. The antioxidant-rich, healthy tea contains only 80 calories per serving, and is free of preservatives and high-fructose corn syrup.
Spring Gathering's lineup this year features the world's top musicians / marijuana advocates. Snoop Dogg, Cypress Hill, Stephen Marley with special guest Damian "Jr. Gong" Marley, Travis Barker and Mix Master Mike, Tha Dogg Pound (a Tribute to Nate Dogg), Dilated Peoples, Collie Buddz, and Los Rakas will keep the crowd going all day from 12:55 pm to 11:30 pm.
B Real, Tommy Chong and Guerilla Union, in association with Americans for Safe Access, have secured permission to provide a safe consumption area for medical marijuana patients on the Spring Gathering grounds—a first in the history of the event.
Ticket holders will receive access to WeedMaps Medical Marijuana Expo @ Spring Gathering, which brings together advocates, businesses and consumers of medical marijuana. It is a popular venue for nonprofit organizations, political organizations, medical physicians, medical marijuana collectives, dispensaries, eco-friendly exhibitors and other members of the diversified cannabis community. Chronic Ice will have a booth at the Expo, so be sure to stop by and grab a sample.
The expo will host many expert discussion panels and special meet-n-greet sessions with celebrity guests and prominent speakers, including Dr. Greenthumb (B-Real of Cypress Hill), who has advocated for marijuana legalization for over 20 years. Topics will include the scientific facts on marijuana's medicinal properties, the latest advancements in hydroponics, an introduction to the influential female proponents of medical marijuana, and the future of the modern cannabis movement. Audience Q & A sessions will follow each panel.
The WeedMaps Medical Marijuana Expo will also play home to The Spring Cannabis Classic, hosted by Tommy Chong. The Spring Cannabis Classic is a platform for medical marijuana patients to celebrate with their favorite collectives, products and strains of the season, as well as honor inspirational activists and artists that have enhanced their lives.
Spring Gathering will be held Saturday, June 11 from noon until midnight at the NOS Events Center, located at 689 South "E" Street in San Bernardino, California. Tickets are available from select retailers and dispensaries, or online at http://www.ticketfly.com/purchase/event/34763.
About the WeedMaps Medical Marijuana Expo @ Spring Gathering
The WeedMaps Medical Marijuana Expo @ Spring Gathering's mission is to educate the public on the numerous potential benefits offered by the cannabis plant, including the medicinal, industrial, agricultural, economic and environmental benefits and applications. In particular, the WeedMaps Medical Marijuana Expo @ Spring Gathering seeks to advance the cause of medical marijuana through education, entertainment and community and inspire, uplift and encourage the next generation of artists, activists and entrepreneurs.
For more information about Chronic Ice, call (424) 202-7359 or visit http://www.ChronicIce.com. Visit Chronic Candy on the web at http://www.ChronicCandy.com.
About ChronicCandy.com
ChronicCandy.com is at the forefront of online medical marijuana news today. It's the one-stop shop for the latest information about the cultural, medicinal and political aspects of the rapidly changing medical marijuana industry. Whether it's the newest trends in cannabis culture or developments in medical marijuana or politics and laws pertaining to cannabis use, Chronic Candy has it covered.
# # #