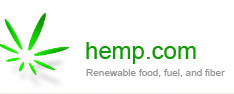 Hemp, Inc. (OTC: HEMP) is the manufacturer of HerbaGenix™ all natural herbal nutraceuticals with hemp and hemp extracts.
Las Vegas, NV (PRWEB) September 21, 2012
Hemp, Inc. (OTC: HEMP) (http://www.hemp.com) is pleased to announce an agreement with CleanPath Resources Corp (CRC) for the marketing and distribution of HerbaGenix™ hemp nutraceuticals through the Business Opportunities division of CRC.
Hemp, Inc. (OTC: HEMP) is the manufacturer of HerbaGenix™ all natural herbal nutraceuticals with hemp and hemp extracts.
CRC is a marketing and distribution company that specializes in assisting entrepreneurs in the turn key development of new retail businesses. CRC not only professionally trains their clients, they also provide the entrepreneur with an initial customer base. HerbaGenix™ nutraceuticals from Hemp, Inc. will be a featured business opportunity offered to aggressive entrepreneurs.
Hemp, Inc. (OTC: HEMP) CEO Bruce Perlowin stated, "This relationship will help those seeking the freedom and opportunity that having their own business affords, while simultaneously helping others take control of their health and wellness issues. The hemp entrepreneur can make an excellent income while helping others achieve a healthier more meaningful life.
Ken Lewis, CEO of CleanPath Resources Corp stated, "Access to these high quality, effective, and 100% natural products will greatly benefit the end user and give our distributors pride in knowing that while they help others improve their lives, they improve their own."
According to David Tobias, President of Hemp, Inc., "We have diversified our company with a multitude of divisions with a key, core focus of creating sustainable products. Collectively, our Eco-Harmony Loyalty and Rewards Card, Hemp Protein (from http://www.BasicHemp.com), male and female enhancements (MJ Lover for Him and MJ Lover for Her at http://www.MJLover.com) and now our HerbaGenix™ hemp nutraceuticals line, though different, all work in a cohesive manner towards that one primary goal." Hemp, Inc. is changing the way Americans live by creating a more natural and sustainable environment.
Craig Perlowin, Hemp, Inc.'s Secretary added, "We are seeing our efforts to diversify coming to fruition and soon we expect to reap the rewards of what we have sown. We continue to work on new innovations in the industry such as paramagnetic hemp cement, hemp and natural fiber fabrics and clothing, gemstone hemp candles, gemstone hemp soap, free range hemp fed chickens, hemp fed chicken eggs, books, Kin's Domains, and more. With our website, http://www.hemp.com, we plan to become the Amazon of industrial hemp products. We have proven we are in it for the long haul."
Inquiries regarding business opportunities should contact Ken Lewis via website, http://www.re-load.biz or via phone (877) 309-9876. Inquiries on these custom branded products can be made by contacting Hemp, Inc. at the contact information below:
HEMP, INC.:
INFO(at)HEMP(dot)COM
INFO(at)MARIJUANAINC(dot)TV
PHONE: 1-877-221-8351
http://www.HEMP.COM
http://www.MARIJUANAINCORPORATED.COM
http://www.MARIJUANAINC.TV (MEDIA AND ENTERTAINMENT DIVISION)
HTTP://MARIJUANAINC.BIZ (CORPORATE WEBSITE)
http://www.HERBAGENIX.COM (HEMP BASED SUPPLEMENTS DIVISION)
http://www.BASICHEMP.COM (HEMP PROTEIN WITH ENHANCED NUTRITIONALS)
HTTP://ECOHARMONYKINSCOMMUNITY.COM (KINS COMMUNITY INFORMATION)
http://www.KINSDOMAIN.US (HOW TO BUILD A KINS DOMAIN AND CREATE THE INCOME FOR THIS)
http://www.SUPPORTPATCHADAMS.COM (HEMP GEMSTONE CANDLES AND FUNDRAISER FOR PATCH ADAMS)
http://www.HELPPATCHADAMS.COM (HEMP GEMSTONE CANDLES AS A FUNDRAISER FOR PATCH ADAMS)
SOCIAL NETWORKS:
http://www.TWITTER.COM @MARIJUANAINC (TWITTER)
http://www.FACEBOOK.COM/BRUCEPERLOWIN (CEO FAN PAGE)
http://www.TWITTER.COM @BRUCEPERLOWIN (CEO TWEETS)
ABOUT HEMP, INC.
HEMP, Inc. (OTC:HEMP) focuses on the vast market created by the quickly emerging, and growing, multibillion dollar industrial hemp industry. HEMP, Inc. is not involved in the cultivation or marketing of medical marijuana. It is the company's belief that legalization of hemp in all 50 states and at the federal level will come to pass. With that in mind, the company is building infrastructure with the potential to gain substantial market share once hemp prohibition ends.* (Pending any federal licensing or other requirements, that may be enacted after hemp prohibition ends).
HEMP, INC.'s TRIPLE BOTTOM LINE
Hemp, Inc. (OTC: HEMP) seeks to benefit many constituencies, not exploit or endanger any group of them. Thus, the publically traded company believes in "upstreaming" of a portion of profit from the marketing of their finished hemp goods back to the original, in which most cases will be the American farmer cultivating natural, sustainable products. By Hemp, Inc. focusing on comprehensive investment results—that is, with respect to performance along the interrelated dimensions of planet, people and profits— our triple bottom line approach can be an important tool to support sustainability goals.
CEO of Hemp, Inc., Bruce Perlowin, is positioning the company as a leader in the industrial hemp industry, with a social and environmental mission at its core. In fact, he wanted to, consciously, found a business with non-financial goals that weren't an after-thought, but were part of its DNA. For example, a percentage of proceeds of the hemp.com products are donated to PatchAdams; Kin's Domain (http://www.kinsdomain.us) uses natural, organic, sustainably harvested, renewable, pure raw materials; and, an overall use of renewable energy sources.
FORWARD-LOOKING DISCLAIMER
This press release may contain certain forward-looking statements and information, as defined within the meaning of Section 27A of the Securities Act of 1933 and Section 21E of the Securities Exchange Act of 1934, and is subject to the Safe Harbor created by those sections. This material contains statements about expected future events and/or financial results that are forward-looking in nature and subject to risks and uncertainties. Such forward-looking statements by definition involve risks, uncertainties and other factors, which may cause the actual results, performance or achievements of Hemp, Inc. to be materially different from the statements made herein.