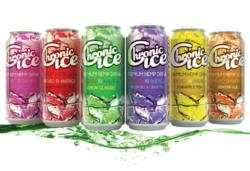 Hemp seed is the foundation of the Chronic Ice hemp iced tea formula—not because it gets you high, but because it makes you healthy
Los Angeles, CA (PRWEB) September 23, 2011
"Out with the new, in with the old" seems to be recipe for better and longer living. Researchers and nutritionists are rediscovering the health benefits of foods we've abandoned in the last century. One of the most nutritious, it turns out, is raw hemp seed, like the kind used to make Chronic Ice hemp iced tea.
"Hemp seed is the foundation of the Chronic Ice hemp iced tea formula—not because it gets you high, but because it makes you healthy," said Jamal Weathers, Chronic Ice owner/partner. "Considered a super food by many, hemp seed is believed to help the body fight cancers."
In her popular blog, the Best of Raw Foods, raw foods guru Esme Stevens calls raw hemp seed one of the most complete plants on earth because it contains the perfect balance of Omega-3 and Omega-6 fatty acids for sustainable human health.
Hemp seed, according to Stevens, contains high-quality food protein and lots of trace minerals, but no enzyme exhibitors—so it is easy for the body to absorb. She believes that raw hemp seed can be incredibly powerful against cancer and may be the single best food to prevent it.
According to Hemp Line Journal, nearly three-quarters of human beings' body solids are made up of proteins constructed from amino acid sub-units. The body needs a total of 21 amino acids to survive, of which eight must be obtained from food and two can only be synthesized if the other eight essential amino acids are present. Raw hemp seed is the only single food source that contains all ten of these important amino acids.
Almost 60% of the protein in hemp is made up of a globulin source called edestin. Most of the rest is in the form of albumin. Albumin and edestin have a very similar molecular makeup to the proteins found in the human body. Because of this common link, hemp protein is very easily absorbed into human blood, where it can provide critical DNA repair. Studies have shown that DNA repair deficiency results in increased susceptibility to cancer.
"The crazy thing is that Chronic Ice is really great tasting," said Weathers. "No one is sacrificing anything switching to Chronic Ice. There's no downside."
Chronic Ice is a refreshing health tea made with organic sugar cane, a green and black tea blend, lemon essence, ascorbic acid and, of course, hemp seed extract. The antioxidant-rich, healthy tea is free of preservatives and high-fructose corn syrup.
Chronic Ice, which is currently available in its original lemon flavor, has recently announced five new flavors of the hemp iced tea: pineapple, blueberry-grape, black cherry, ginger ale and unsweetened. The nation's first premium hemp beverage is also getting a completely new packaging design that expresses the hemp beverage's refreshing-now-and-healthy-later benefits.
For more information about hemp seed, Chronic Ice hemp iced tea or Kush Boys Worldwide, visit chronicice.com or call (888) 557-3332.
About Kush Boys Worldwide
Kush Boys Worldwide is a Los Angeles-based company committed to pursuing ventures that benefit a demographic they call the new-age pop culture. Current projects include the online animated series Master Kush; an eco-friendly clothing line for the urban demographic called Kush Couture Lifestyle Apparel (KCLA); an all-natural iced health tea made with hemp known as Chronic Ice; the natural male enhancer Sir Rock; and Kush Boys Studios.
Kush Boys is now launching a number of lifestyle products, such as Chronic Ice and KCLA clothing, to satisfy the needs of a demographic they call the new-age pop culture.
###