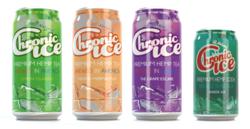 People are looking for an alternative to the artificial drinks that dominate the mainstream market
Los Angeles, CA (PRWEB) February 15, 2012
Greenlight Beverages is poised to make a splash in the alternative drinks market. The maker of Chronic Ice, an all-natural health tea made with green and black teas, cane sugar, and hemp seed powder, will introduce two new tea flavors and a soda next month. This is just the start of Greenlight Beverages' foray into the new-age beverage market.
"People are looking for an alternative to the artificial drinks that dominate the mainstream market," noted Jamal Weathers, a co-founder of Greenlight Beverages. "Consumers are thirsty for a great-tasting drink that naturally gives them a boost of energy."
Chronic Ice is a health tea, and the nation's first premium hemp beverage. It is made with organic sugar cane, whole-leaf green tea, black tea and hemp seed. Each serving of the antioxidant-rich, healthy tea is free of preservatives and high-fructose corn syrup. It has been tested with oncologists and enjoyed by celebrities like Cee Lo Green, Goodie Mob, Drake, and boxing champion Floyd Mayweather.
The Lemon Classic flavor of Chronic Ice is now available in stores around California, Hawaii, Oregon, Washington State, Washington DC, and Florida. Two new flavors of Chronic Ice hemp iced tea will be introduced next month: The Grape Escape and Peach Perfection. Greenlight Beverages will simultaneously launch its first soda, Chronic Ice Ginger Ale, made with real ginger extract, cane sugar, and hemp seed powder. With the launch of the new varieties, all flavors of Chronic Ice will get a completely new packaging design that expresses the hemp beverage's refreshing-now-and-healthy-later benefits.
Chronic Ice was developed by Kush Boys and Chronic Candy, but will be solely associated with Greenlight Beverages with the launch of the new flavors and can designs. Greenlight Beverages will focus exclusively on healthful drinks, and plans to introduce additional brands to the alternative beverage market in the future.
For more information about Greenlight Beverages, visit greenlightbeverages.com or call (888) 557-3332.
About Greenlight Beverages
Greenlight Beverages is a Los Angeles-based company focused on bringing healthful drinks to the alternative beverage market. Greenlight Beverages is proud to present Chronic Ice, the nation's first premium hemp beverage. Made with green and black teas, hemp seed powder, and pure cane sugar, Chronic Ice is the perfect alternative to the chemicals and corn syrup found in other drinks.
###