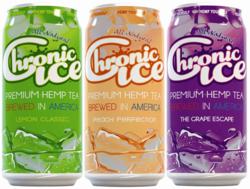 We've been hard at work perfecting these new flavors of Chronic Ice, and we're excited to finally bring them to market
(PRWEB) March 17, 2012
The wait is finally over: the beverage of choice by New Age Pop Culture, Chronic Ice, just hit shelves with a new look and two new flavors, The Grape Escape and Peach Perfection. Chronic Ice creator Greenlight Beverages simultaneously launched its first soda, Chronic Ice Ginger Ale, made with real ginger extract, cane sugar, and hemp seed powder. With the re-launch, the premium healthy hemp beverage is taking it to a new level in both flavor and can design.
"We've been hard at work perfecting these new flavors of Chronic Ice, and we're excited to finally bring them to market," says Jamal Weathers, a co-founder of Greenlight Beverages. "Now people looking for a healthy and refreshing beverage have three new choices of flavor in a completely redesigned can."
Chronic Ice is already considered a health tea, rich with antioxidants from the green tea, black tea, and hemp used to make it. Now, along with the original Lemon Classic flavor, these health benefits are available in grape or peach flavored hemp tea, or even an all-natural hemp ginger ale.
The new flavor introduction also comes with a can redesign that better reflects the THC-free drink's health benefits, as well as its naturally refreshing taste. The new label art now comes in colors to match flavors and depicts an all-natural alternative to other beverages full of chemicals and corn syrup with ingredients like "peace, passion, and positive vibes."
The clean and colorful design of the new cans also features "hempful facts" that aim to explode the common misconception that hemp is just for getting high.
For example, according to Naturally Splendid, the omega-3 and omega-6 essential fatty acids found in hemp seed help improve circulation and boost the immune system. Hemp also contains high amounts of protein, particularly globulin and albumin, two globular proteins used by the immune system to produce antibodies to fight off infection.
Along with insight into the health benefits of hemp, the cans also portray fun historical facts to help educate consumers about the plant's odd past, including its connection to America's founding fathers.
Chronic Ice is now available in stores around California, Hawaii, Oregon, Washington State, Washington DC, and Florida.
For more information about the new flavors of Chronic Ice, visit chronicicetea.com or call (888) 557-3332.
About Greenlight Beverages
Greenlight Beverages is a Los Angeles-based company focused on bringing healthful drinks to the alternative beverage market. Greenlight Beverages is proud to present Chronic Ice, the nation's first premium hemp beverage. Made with green and black teas, hemp seed powder, and pure cane sugar, Chronic Ice is the perfect alternative to the chemicals and corn syrup found in other drinks.