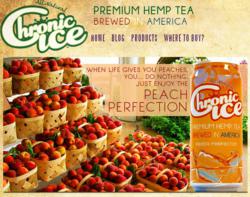 We are excited about the new Chronic Ice website
(PRWEB) April 14, 2012
On the heels of the debut of two new Chronic Ice hemp iced tea flavors and the nation's first hemp soda, Greenlight Beverages has launched a brand new website. Designed to convey the refreshing and healthful qualities of Chronic Ice hemp beverages, the new site features give fans easy access to product information, special promotions, news, a blog and social media updates.
"We are excited about the new Chronic Ice website," said Greenlight Beverage spokesman Jamal Weathers. "It is a key component of our global hemp education movement, which we call the Hemp Tea Partay."
Greenlight Beverages' Hemp Tea Partay is a marketing campaign, or movement, designed to increase hemp education and awareness. The company will be recruiting "ambassadors" around the country and provide them with materials to help spread the word about the goodness of hemp.
Last month, Greenlight Beverages launched its first carbonated soda, Chronic Ice Ginger Ale, made with real ginger extract, cane sugar and hemp seed powder. At the same time, the company also introduced new Grape Escape and Peach Perfection flavors of Chronic Ice. All flavors of Chronic Ice are now available in a completely new packaging design that expresses the hemp beverages' refreshing-now-and-healthy-later benefits.
Chronic Ice is a health tea, and the nation's first premium hemp beverage. It is made with organic sugar cane, whole-leaf green tea, black tea and hemp seed. According to Dr. Slavik Dushenkov, Executive Vice President of Consolidated Growers and Processors, Inc., hemp seed is a health food. And as awareness of the nutritional properties of hemp seed grows, so does demand.
Each serving of the antioxidant-rich, healthy tea is free of preservatives and high fructose corn syrup. It has been tested with oncologists and enjoyed by notable hip hoppers Lil' Wayne, The Game and Snoop Dogg.
For more information about Greenlight Beverages, visit greenlightbeverages.com or call (888) 557-3332.
About Greenlight Beverages
Greenlight Beverages is a Los Angeles-based company focused on bringing healthful drinks to the alternative beverage market. Greenlight Beverages is proud to present Chronic Ice, the nation's first premium hemp beverage. Made with green and black teas, hemp seed powder, and pure cane sugar, Chronic Ice is the perfect alternative to the chemicals and corn syrup found in other drinks.