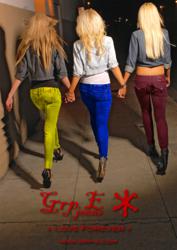 Chronic Ice and Grp.E are two brands cut from the same cloth, so to speak
(PRWEB) April 28, 2012
Blending Chronic Ice's new "Tea Partay" campaign and Grp.E Jeans' new 2012 Summer Collection of cocktail-inspired denim washes seemed like the perfect fit to San Francisco fashion designer Tommy Pham. That's why he named Grp.E's new neon yellow jeans "Chronic Ice" after the antioxidant-rich hemp tea's all-natural Classic Lemon flavor.
"Chronic Ice and Grp.E are two brands cut from the same cloth, so to speak," says Tommy Pham. "We're both supporters of the party culture. Grp.E's sexy, comfortable jeans and Chronic Ice's refreshing health drink both help partiers feel good all night long."
The main ingredient in Chronic Ice beverages is hemp seed powder. Considered a super food, hemp seed gives drinkers a lift, without getting them high. And, in addition to hemp, Chronic Ice is packed with other healthy nutrients every party person needs to feel great.
"These jeans are hot! And we're ecstatic about Tommy's new line—especially the Chronic Ice designer jeans," said Greenlight Beverages spokesman Jamal Weathers. "What an honor to be included in Grp.E Jeans 2012 Summer Collection."
The neon yellow hue of Grp.E's newest wash will be available just in time for summer, as people everywhere trade in their gloomy, dark colors for sunny new digs. All of the designer jeans in Grp.E's 2012 Summer Collection are cheekily named after adult beverages, like the Blue-tini, Vodka-Cranberry, and Mojito.
The new jeans will debut at Grp.E's Make-A-Wish benefit trunk show starting at 7pm on Friday, May 4, 2012 at 965 Mission Street (@ 5th Street), Suite 205 in San Francisco. Admission is free. RSVP is requested at http://grpe-summer2012.eventbrite.com/. Guests are encouraged to come thirsty, as the Chronic Ice and innovative adult beverages will be flowing all evening.
Greenlight Beverages, makers of Chronic Ice, recently introduced three new flavors of premium hemp drinks. They include The Grape Escape and Peach Perfection hemp teas and the nation's first hemp soda, Chronic Ice Ginger Ale.
The new flavors are wildly popular. In fact, all 105,000 cans produced for the first run sold out just days after hitting shelves. Bartenders say they are having fun mixing Chronic Ice in inventive new drinks, like the "Sir Chron," "The Vonic" and "Chron Island Iced Tea."
"We think the new jeans will be just as popular as the new Chornic Ice flavors," said Weathers. "And mixing Grp.E jeans and Chronic Ice is definitely all in good taste."
Chronic Ice hemp teas can be found at convenience stores across the nation and Grp.E jeans can be found online at http://www.grp-e.com and at boutiques across the San Francisco Bay Area.
About Greenlight Beverages
Greenlight Beverages is a Los Angeles-based company focused on bringing healthful drinks to the alternative beverage market. Greenlight Beverages is proud to present Chronic Ice, the nation's first premium hemp beverage. Made with green and black teas, hemp seed powder, and pure cane sugar, Chronic Ice is the perfect alternative to the chemicals and corn syrup found in other drinks.
For more information about Greenlight Beverages or to order Chronic Ice, please visit greenlightbeverages.com or call (888) 557-3332.
About Grp.E Jeans
Grp.E (pronounced like groupie) is the lifestyle clothing brand launched in 2010 by celebrated San Francisco clothing designer Tommy Pham for men and women who love to work hard…and play even harder. In the Grp.E brand, Pham—the clothing designer behind the LL Cool J and G-Unit (by 50 Cent) brands of designer jeans—has created the perfect party wear for the up-all-night rockstar, with great fitting jeans that are comfortable, tough, and come off in a snap.
The "E" in the name makes it clear that Grp.E is for everyone—and everyone has the right to party and have fun while living on this green earth. The Grp.E brand communicates that everyone is at once the same and unique. Each pocket bag is printed with the phrase "Everyone's Pink Inside" and the asterisk logo, the symbol of ambiguity, lets every wearer decide what statement they are making.
To inquire about carrying the Grp.E line or for more information about Grp.E Jeans, call (415) 891-7888 or visit them on the web at grp-e.com. To keep current on special events and promotions, like Grp.E on Facebook at facebook.com/grpes and follow them on Twitter twitter.com/GrpEjeans.