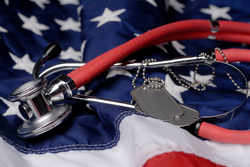 "It is vital that nursing faculty and students have an understanding of the unique needs of Veterans and their families toward the end of their lives." ~Betty Farrell, PhD, RN, FAAN, FPCN
Hyannis, MA (PRWEB) September 23, 2010
The Hospice Education Network(HEN) today announced the addition of seven End of Life Nursing Education Consortium (ELNEC) ELNEC - For Veterans modules to their current catalog of courses. The filming and inclusion of these modules in the HEN library marks the fourth significant milestone in the collaboration between HEN and ELNEC, the premiere developer of end-of-life curriculum for nurses in the country.
The Hospice Education Network (HEN) has partnered with ELNEC to provide its core, pediatric and geriatric curricula online and is now honored to have the privilege to work with ELNEC on the ELNEC - For Veterans project. During the three years of the ELNEC - For Veterans project, 600 nurse educators will enroll in national "train-the-trainer" courses. The expertise gained there promises to improve the quality of palliative care for thousands of veterans in 153 Department of Veterans' Affairs Medical Centers across the U.S.
HEN will lend its technological resources to the ELNEC - For Veterans project and provide ELNEC's veteran's curriculum online. These courses will be available to VA hospitals across the country as well as to hospices, academic centers, schools of nursing, hospitals and any provider of end-of-life-care interested in improving the quality of care provided to our nation's veterans.
"We are honored to be included in this national project, both as partners with ELNEC but also in support of our Veterans," states Sheila Flynn, CEO of Weatherbee Resources and the Hospice Education Network. "We know that not only will this curriculum benefit the Veterans Administration, but also all current and future subscribers of our online library."
"We know nursing faculty play a major role in teaching and mentoring undergraduate and graduate students in end-of-life care. Many of the patients they see in clinical and community settings on a daily basis are Veterans. It is important that Veterans receive care in all settings including community hospitals, academic centers, cancer hospitals, home care, and hospices, since only 4% of Veterans die in VA facilities. The ELNEC - For Veterans project hopes to also reach nurses in these community settings.
"It is vital that nursing faculty and students have an understanding of the unique needs of Veterans and their families toward the end of their lives. No other healthcare provider spends more time with these Veterans and their families than the nurse," explained nationally recognized palliative care expert Betty Ferrell, PhD, RN, FAAN, FPCN, Principal Investigator for the ELNEC - For Veterans project and Professor, Nursing Research and Education at City of Hope. "The ELNEC - For Veterans project will be one components of a major initiative that the Department of Veterans Affairs has for improving the quality of care in the VA system," said Ferrell.
HEN / ELNEC - For Veterans Courses include:

Introduction of Palliative Care - by Betty Ferrell, RN PhD FAAN FPCN
Pain Management - by Judith Paice, PhD, RN, FAAN
Symptom Management - by Patrick Coyne, MSN, APRN, ACHPN, FAAN, FPCN
Cultural Considerations - by Carma Erickson-Hurt, APRN, ACHPN
Communication - by Michelle Gabriel, RN, MS, ACHPN
Loss, Grief and Bereavement - by Deborah Grassman, MSN, ARNP
Final Hours - by Judith Paice, PhD, RN, FAAN
For a video introduction to the ELNEC - For Veterans curriculum, click here.
About the Hospice Education Network
The Hospice Education Network, owned and operated by Weatherbee Resources, Inc., is a comprehensive, innovative service that offers staff orientation programs, annual in-services, volunteer training and specialized learning modules addressing the education needs of hospice programs and end-of-life care professionals. Headquartered in Hyannis, MA, HEN offers more than 150 hospice and palliative care courses. For more information, please visit the Hospice Education Network website at http://www.hospiceonline.com or call 866-969-7124.
About the End-of-Life Nursing Education Consortium
The End-of-Life Nursing Education Consortium (ELNEC) is a national educational program administered by City of Hope National Medical Center (COH) and the American Association of Colleges of Nursing (AACN) designed to enhance palliative care in nursing. The project, which began in February 2000, was initially funded by a major grant from The Robert Wood Johnson Foundation (RWJF). To date, over 10,000 ELNEC trainers, representing all 50 U.S. states and 63 international countries have received ELNEC training through these national courses and are sharing this new expertise in educational and clinical settings. For more information please visit the ELNEC website at http://www.aacn.nche.edu or call Pam Malloy at 202- 463-6930 ext. 238.
###