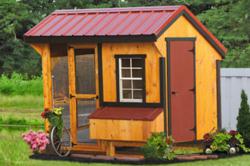 This line of Amish chicken runs and coops provides aesthetic beauty and coop features that are hard to beat
New York, NY (PRWEB) June 26, 2012
For those looking to add portable hen house chicken coops or poultry chicken coops to their backyard, a new online chicken coop store offers an array of beautiful options. Sheds Unlimited Inc of the Amish in Lancaster County Pennsylvania recently announced the opening of their ALL NEW chicken coops and runs store on their growing website. This new option expands their base for potential chicken coop customers beyond Pennsylvania and the surrounding states to the entire continental United States.
Those visiting the new online portable chicken coop store on the Sheds Unlimited website will find at least six different styles of hen houses and poultry chicken coops to choose from. The smallest and cheapest chicken coop model on display is the Mini Chicken Coop. This small portable chicken coop for 4 chickens has an attractive look with equally enticing standard features. The access door combined with the glassbord floor make this an easy cleaning hen house and with the addition of wheels, an easy-to-move backyard coop.
Following are the Lean-To coops called the Hen House Chicken Coops. A photo in the Sheds Unlimited chicken coop store shows cedar hen houses with optional runs that are hard to beat for beauty and attractiveness. The 4'x6' portable hen house for 12 chickens features two nice sized windows, a special roof sheathing to keep the chickens cooler during hot summer days and the practical option of making the coop truly portable by adding wheels to the chicken coop. According to the Sheds Unlimited management team, "this line of Amish chicken runs and coops provides aesthetic beauty and coop features that are hard to beat."
If one is looking for a truly fancy portable hen house, then there are the chicken coops with runs. While most of the portable hen houses from Sheds Unlimited have the option of an additional outdoor chicken run, the Classic Chicken Coop has the chicken coop run already built in. It offers extra protection for the elements for those who want to offer the best care for their flock of hens and will be a beautiful addition to a backyard or a small farmstead.
Sheds Unlimited has been in the business of manufacturing prefab storage sheds, backyard vinyl buildings, custom two car garages, two story sheds, barns and garages and even a few portable poultry coops for the past twenty-three years plus. They are a family owned and operated corporation which provides superior customer service along with a lovely line of beautiful backyard sheds, prefab garages and now backyard hen houses. The addition of hen house chicken coops simply adds to the many items available for customers in PA, NJ, NY, CT, DE, MD, VA, WV and beyond.
While the backyard hen houses and chicken coops with runs will be sold and delivered to the states which Sheds Unlimited already covers, the chicken coops and hen houses are available for shipping throughout the continental United States of America. Visit their chicken coop store online and see the many options available for the backyard hen house coops from this Amish-Mennonite owned business in Lancaster County, PA.